/

/

UPDATE: 2nd prayer vigil for law enforcement in Splendora Sept 2'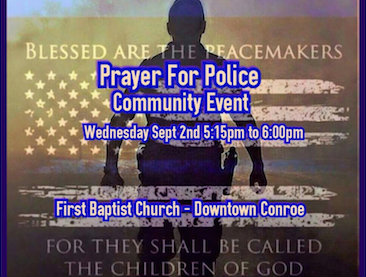 UPDATE: September 2, 2015
Lt. Gov. Dan Patrick keynote speaker for Conroe prayer vigil.
A second prayer vigil was scheduled in Splendora following the Conroe event per Precinct 4 Constable Rowdy Hayden.
The event was scheduled for 7:00 p.m., at Highpoint Fellowship located at 12308 US-59 in Splendora, TX, 77372 (next to the Kubota dealership.)
The community was cordially invited.
ORIGINAL STORY:
CONROE, Texas - Psalm 138:7 Though I walk in the midst of trouble, you preserve my life; you stretch out your hand against the wrath of my enemies, and your right hand delivers me.
The recent death of Harris County Sheriff's Deputy Daren Goforth has demonstrated that it is imperative that we as a community rise up in support of our local law enforcement. In spite of the uptick in violence against police officers, this is not a time to search for people to blame. This is a time to come together as a community and show our support for those heroes who put on a badge and protect us every day.
"Now especially, in the wake of the brutal murder of Deputy Goforth, we need to come together to pray and show our support for local law enforcement officers," said County Judge Craig Doyal. "Every day they put on a uniform and head out to protect our local communities, they need to know we are thinking of them and praying for them and their families."
From 5:15 to 6pm on Wednesday, September 2, 2015 at the First Baptist Church in Conroe, Texas, local community, law enforcement, religious and government officials are asking for the community's participation in blessing our local law enforcement. Lt. Gov. Dan Patrick will be the keynote speaker.
Titled the "Prayer for Police Community Event," the public is invited to join us in praying for our police. Many of our local law enforcement officers will be present and department chaplains will be present to lead those present in prayer.
In response to the tragic shooting death of Deputy Goforth, Harris County District Attorney Devon Anderson said in a press conference Friday that, "It is time for the silent majority in this country to support law enforcement. There are a few bad apples in every profession. That does not mean there should be open warfare declared on law enforcement." Our local leaders agree and in response to this call, they have organized this event.
"Right now, in this time, our officers are beginning to feel unsafe in their own communities," stated District Attorney Brett Ligon. "I just want them to know we care, and the only way I can think of to do that is to pray for them, publicly. Those of us in law enforcement need to lean on our community for support right now. I know Montgomery County, and Montgomery County loves their local law enforcement. I'm asking for you to show them an outpouring of love at a time when they desperately need it."
Local police chiefs, constables, county leaders and religious officials will all be present at the event. Immediately following the event, members of the Christian Motorcyclists Association will be present to pray over officers and their patrol cars in the church's parking lot.
Also read "Prayer for Police Community Event" in Conroe Sept 2 to support law enforcement officers from Lt. Brady Fitzgerald of the Montgomery County Sheriffs Office.