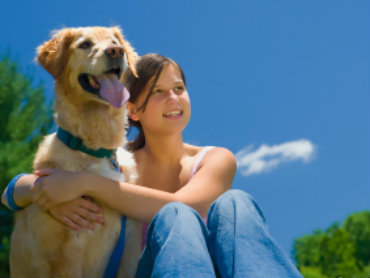 Conroe, TX – Local non-profit animal rescue, Animal Shelter Volunteers of Texas (ASVT), announced today that it will begin the Adoption Ambassador Program effective September 1, 2015. Adoption Ambassador Programs are promoted by the ASPCA and allow volunteers to seek adoptive homes for dogs by promoting the dogs on their social media accounts and walking the dogs in the community. Look for ASVT volunteers walking dogs near The Woodlands Mall on September 5, from 1-3:00 p.m., to kickoff this program. These dogs will be available for adoption.
Adopt on the Spot concept designed to find fur-ever homes for loving pets.
The dogs, from the Conroe Animal Adoption Center (CAAC), will be wearing an orange "Adopt Me" vest and walked using an orange leash. Anyone interested in adopting the dog can approach the Adoption Ambassador, fill out an application, pay $40 and take their new family member home immediately. No need to return to the shelter as the dog will already be spayed/neutered, microchipped, have vaccinations and rabies shot!
Adoption Ambassador Coordinator Kathy Bickley stated, "This is a great opportunity for people to see that shelter dogs make fantastic pets, and it gives volunteers another avenue to promote adoption, spay/neuter and the Conroe Animal Adoption Center! There's never been a program like it in Montgomery County."
Research by the ASPCA has shown that the Adoption Ambassador Program increases adoption of dogs by people who have not adopted before and decreases the rate of return to the shelter. Currently the CAAC dog intake frequently exceeds adoptions leaving staff and volunteers scrambling to find foster and adoptive homes.
Starting in September Adoption Ambassador Volunteers can be spotted walking dogs in the Conroe, Woodlands, Willis and Montgomery areas. We hope to find adoptive homes, but also encourage people to ask about our dogs, shelter pets, ASVT and CAAC services. Future plans involve extending the Adoption Ambassador Program to include cats.
Adults and teens 16 and over who are interested in becoming a volunteer Adoption Ambassador can apply to become an ASVT volunteer on Conroe Animal Shelter
Animal Shelter Volunteers of Texas is a 501(c)3 volunteer-run nonprofit organiation. We are dedicated to helping abandoned, abused and neglected animals by providing medical care, supplies, foster homes, adoption promotion and socialization of dogs and cats at the Conroe Animal Adoption Center. ASVT received non-profit status in 2010 and since then has steadily increased services to the dogs and cats at the CAAC. We have facilitated the building of off leash areas, walking paths and transport of dogs to a higher rate adoption shelter, local off-site adoptions, donations of beds and large cat cages for use at the CAAC and education on the importance of adoption and spay/neuter. For more information please visit the animal shelter website and their Facebook page at the links provided.