/

/

Veterans of Foreign Wars honored on VFW Day Sept 29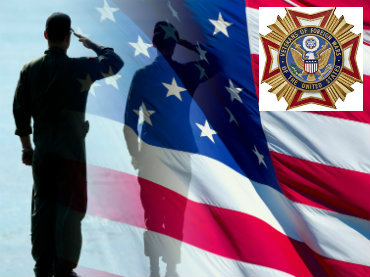 CONROE, Texas - Veterans who served in foreign wars and have chosen to continue to serve by becoming a member of the Veterans of Foreign Wars organization, are honored today on VFW Day.
Each year on September 29, and for 111 years, Veterans of Foreign Wars Day has been celebrated around the world. Member include veterans who fought in just about all of America's military campaigns, with the exception of the Revolutionary and Civil wars. VFW Post members and Auxiliaries pay tribute to veterans year-round through programs that not only benefit veterans, but the community, through service work, holding steadfast to "honoring the dead by helping the living."
It was on this date in 1899, that a group of Spanish-American war veterans joined together to form what would become the nation's largest group of combat veterans.
Montgomery County is proud to have two VFW Posts…VFW Post 12024 in The Woodlands, and VFW Post 4709 in Conroe. There is also a VFW Motorcycle Group of Texas-Unit 1, in The Woodlands.
These Posts and their Auxiliaries demonstrate their dedication through military assistance, and community service programs that included youth activities, scholarship programs, and donations drives throughout the year.
To become a member and participate in their worthwhile efforts, check with the local VFW Posts and Auxiliaries for eligibility requirements:
VFW Post 4709
1303 West Semands
Conroe, TX 77301
Phone #: 936-756-7614
Website: www.vfw4709.org
VFW Post 4709 Facebook
VFW Post 12024
2235 Lake Robbins Drive
The Woodlands, TX 77380
www.vfw12024.org
VFW Post 12024 Facebook
Other ways to honor veterans today…
Fly your American flag
Treat a veteran to a cup of coffee as it's also National Coffee Day
Contact the VFW Posts & Auxiliaries to see if they need volunteers or donations for a current project
Donate treats and toiletries to military donation collections
In Montgomery County at least three organizations collect excess Halloween candy, greeting cards, and toiletries for military personnel currently serving overseas. Every day of the work week you can find Christine and friends at the Gosling Post Office in South Montgomery County, with parcels that you can send to the troops. The "Every military person deserves a Care package" project, sends the troops boxes with treats and hygiene essentials daily.
"We're already preparing the Christmas packages," said Christine (who prefers her last name not be used. "The troops especially enjoy getting the holiday greeting cards and chocolate. We only ship chocolate during the winter months, November through February. Anyone with excess Halloween candy can drop it off here during the hours we're here at the post office."
Hard candies, jerky, toiletries, and decks of cards, are other items that are greatly appreciated by the troops. Operation Military Embrace and Operation Holidays for Heroes. (See related links.) Show your appreciation to veterans by giving back in some way to those who have served, and those currently serving, who will be our future veterans.
#VFW #VFWDay