/

/

UPDATE: Holiday merchants' window display winners announced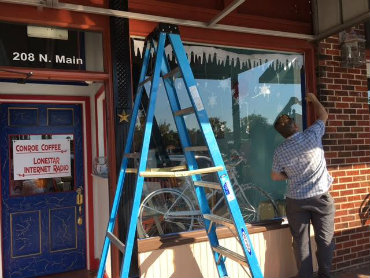 UPDATE:
New this year was the window decorating contest. To entice shoppers to the downtown area, retail merchants went all out with elaborate, window displays, some in keeping with this year's parade theme, "Christmas Around the World," and others in the old-fashioned style of the early to mid-century period of the 1900s. The winners are as follows:
People's Choice - Branding Iron Productions
Best use of Theme - A tie between Conroe Coffee and Mimi's on Main
Most Creative - Brownlee Jewelers
See photos in the 2015 Conroe Christmas window decorating contest winners.
See related link A Conroe Christmas...parade, festival, and contest.
UPDATE:
It's beginning to look a lot like Christmas in historic downtown Conroe. Merchants have decorated their windows to vie for prizes. Voting for the People's Choice Award started Friday, November 27. The winners will be announced at the Christmas Celebration at Heritage Plaza at 2:00 p.m., Saturday, December 12.
ORIGINAL STORY:
Conroe, Texas - It's beginning to look a lot like Christmas in historic Downtown Conroe. Twenty-two merchants are participating in a window decorating contest to vie for the People's Choice Award and the public will be voting! The winner will be announced at the Christmas Celebration December 12 at Heritage Park.
There has been a lot of excitement brought on by the challenge of decorating windows. Some of the merchants have been wagering bets as to who will win the Traveling Trophy. The public is encouraged to stroll the participating merchant windows to vote (one time only) for their favorite Christmas decoration. Voting will commence on Friday, November 27 at Conroe Christmas Celebration - Downtown Window Decorating Contest. All voting must be complete by Saturday, December 12 at midnight.
Winners will also be chosen for Best use of Theme-"Christmas Around the World", and Most Creative by the City of Conroe Christmas Committee. Winners will be announced at the Christmas Celebration at Heritage Plaza at 2:00pm on Saturday, December 12.
Participating Storefronts:
Assistance League of Montgomery County- 126 N. San Jacinto
Brownlee Jewelers-201 Simonton
Carmelita's Restaurant-109 W. Davis
Clear Choice Acupuncture and Wellness-213 N. Thompson
Conroe Art League-127 Simonton
Conroe Central Market-225 N. Thompson
Conroe Coffee-206 N. Main
Conroe House of Prayer-115 W. Davis
Campobella Bronze Fine Art Studio-202 N. Main
Hadco International-326 ½ N. Main
Hillson's Design Serrvices-236 N. Main
Knox Building-221 N. Thompson
Lonestar Internet Radio-208 M. Main
Mimi's On Main-312 N. Main
Quest Engineering-304 N. Main
Shephard's Barbershop-116 Simonton
Sister's Café-330 N. Main
Stage Right-234 N. Main
Switch Hair Salon-204 N. Main
The Branding Iron-210 N. Main
The Corner Pub-302 N. Main
The Mercantile-202 N. Main
The Red Brick Tavern- 119 Simonton
"It's so exciting to see everyone decorating just like you used to see in department store windows before there were malls", said Janice Parrish of Brownlee Jewelers. "This just makes the Downtown Conroe area come alive!"
By walking down Main St. to Metcalf, and then turning down Metcalf to Thompson, most of the participating windows will be viewable. The Conroe House of Prayer will be on your way to Carmelita's Restaurant on your stop for a meal before you finish your judging.
"It reminds me of looking at store windows in Harrod's of London when I was young with my parents at Christmas-time", said Leo Harris of the "British" Conroe Coffee. "It's a fun activity that gets families out in the community and that's free!"
For a sneak preview of some of the windows that have already been decorated, click on Experience Historic Downtown Conroe at Christmas 2015.
Leo Harris will be sponsoring a photo booth contest with participants posting selfies taken in front of her decorated window and then sharing on the Conroe Coffee Facebook. Winners will be chosen December 20.
More Christmas Happenings:
Children will have the opportunity to drop off letters to Santa this year at 5 local "Santa" mailboxes.
The Greater Conroe Chamber-505 W. Dallas
Conroe City Hall-300 W. Davis
C K Ray Recreation Center- 1203 Callahan
Oscar Johnson Jr. Community Center-100 Park Place
Conroe Central Library-104 IH 45
The lighting of the community Christmas tree will take place December 1, at 6:30 p.m. A holiday concert will play from 5:30-8:00 p.m.
The First Thursday Farmer's Market will be Thursday, Dec. 3, at Founder's Plaza from 4-7:00 pm. Santa will be on stage taking pictures and listening to children tell him about Christmas toys. Additional vendors may contact Margie@TaylorizedPR.com or go to Experience Downtown Conroe for an application to participate. Local musicians and choral singers are welcome to play and sing Christmas favorites.
The Conroe Christmas Celebration, December 12, begins at 11:00 a.m., and will include the following festivities:
Two real snow hills
Face painting
Petting zoo
Pony rides
Train rides
And the reason for the season...a live Nativity
The Conroe Kiwanis Club Christmas Parade kicks off the same day (Dec. 12) at 1:00 p.m., and will wind through the downtown area. This year's theme is "Christmas Around the World." Only one Santa will be in the parade. Please do no dress anyone in a Santa costume. The REAL Santa will be the finale of the parade, and will be at the end of the parade. For more information please contact: kfckiwanis@yahoo.com
The Christmas Celebration events will continue until 5:00 p.m., with local merchants welcoming holiday shoppers throughout the day. Be sure to vote for your favorite window decoration while in historic downtown Conroe, and have a fun and safe holiday season. The lighting of the community's Christmas tree will provide the finale of the day's holiday events.
To keep informed about holiday events in Conroe, stay tuned to Conroe Today and it's Calendar of Events, and also the Conroe Today Facebook page, in addition to the Experience Historic Downtown Conroe Facebook page.
#DowntownConroe #CaptureConroe #ConroeToday