/

/

Christmas Gifts that are really Best Buys!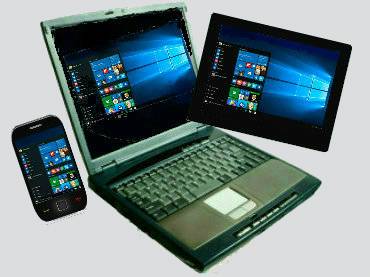 CONROE, Texas - Is it confusing to look at all the new laptops, smart phones, and tablets? What has the best features for a fair price? As a professional techie of 30 years, Brad Schlerf of 911 Data Recovery will give you his view of the best of the best!
Tablets are economical, convenient, thinner, lighter and have a longer battery life than laptops. Tablets are gaining in popularity and will be looked at first.
Microsoft Surface Pro
Pros: Lightweight at just 1.69 lbs, extremely high contrast with low glare and can easily transform into a laptop with all the features of a Microsoft Office desktop software intact. It has both a rear facing and front facing camera for stunning videos and pictures, and the battery lasts up to 9 hours. It is best known as the 2-in-1 device between a tablet and a PC. Pages can even be marked up with a Surface pen. The adjustable kickstand keeps everything in place at 22 or 150 degrees. $899-$2199.
Cons: keyboard and type cover are sold separately, and all repairs must be done off site. Overall a good buy.
HP Elitebook Folio
Pros: Durable, sleek, fingerprint reader for security, with 2 small perforations for a dock and an additional USB port on opposite side. 2.68 lbs with super slim edges and a silver chassis. Absolute Data Protect provides 4 years of protection from lost data, missing pc, or malware attacks. The fingerprint reader allows all 10 fingers to be registered instead of a password for protection. $1199-$1499
Cons: the webcam and photos come out subpar and are not the best feature. Speakers and volume are a little weak, but do the job. With just over 6 hours of battery life it will need to be plugged in for all day office work.
Lenova Thinkpad Yoga 15
Pros: a 2-in-1 with strong graphics, long battery life (8 hours), can rotate 360 degrees, bright display with a touchscreen, and above average audio. Also has 3 USB ports. $999
Cons: Not a crisp feel on mousepad. No backlighting on keyboard. Photos and webcam produces blurry photos that are grainy. But overall a good value.
Google Nexus 9
Pros: 8.9 inch tablet is under 1 lb with a soft grip, rounded corners and a virtually hidden power button that contributes to the slick design. The Nexus utilizes Google's Android 5 Lollipop that allows a pull down menu with notifications, a quick settings menu, and a recent apps function. All settings can be controlled through this function. $399
Cons: No SD card expansion slots, but Google's cloud based services are meant to replace that need.
Apple iPad Air 2
Pros: Thin, lightweight, efficient, and a fast processor. And it's Apple. Also has a multi-carrier SIM card that can be used with any carrier. Great Wi-Fi performance with full versions of Microsoft Office programs. $499
Cons: It's Apple and expensive. Most used for entertainment, as file saving and sharing is a multi step process. Battery life is just over 5 hours.
Amazon Fire HDX 8.9
Pros: faster processor than previous models of Kindle. Dolby sound is very real and sounds like the sounds are right there happening with you. Better viewing inside and out with increased pixels for superior viewing experience. Front and rear facing cameras that can easily be edited, shared and deleted with a new photo app. Unlimited Cloud Storage and ultrafast wireless for downloading, streaming and connecting to internet. 12 hours of battery life. $429.99
Cons: The OfiiceSuite Shell is not fully functional and will not work for office demands. This is a tablet more for entertainment than office.
Brad's Recommendation for Best Buy: Go with an Android based tablet for versatility, flexibility, increased apps, and open source programming with the convenience of an SD card to save pictures. Apple has better customer service and great backup for iTunes.
Let's review Smart Phones:
Samsung Galaxy S6
Pros: Nice looking, sleek style with a fast processor, easily handled with one hand. Battery life is a long 7 hours and 48 minutes. The speaker and call quality is great, but some background noise still audible. The camera is the second best on market behind the iPhone6. Battery life 7 hours, 48 minutes $579
Cons: Has issues with apps getting stuck and phone malfunctioning. Difficult to repair.
Apple iPhone 6S
Pros: Faster and stronger glass front display made with same material as Corning glass, it has a touch ID fingerprint sensor. The camera lens is slightly larger, with improved front facing camera and better quality videos. Wifi performance and reception is improved over past iPhones. Battery life is 4 hours, 20 minutes. $649-$849
Cons: Often need repairs, but less costly to repair with parts more readily available than Android phones.
Apple iPhone 6S Plus
Pros: This phone is larger than most and the best reason to consider it. Excellent photos, tougher glass display than previous iPhones, and the 3D touch is great for gaming performance. The camera is improved over last year's model to increase optimal image stabilization. $799
Cons: Slightly less batter life than iPhone 6s-4 hours, 11 minutes, and Wifi reception is slightly less than the iPhone 6s.
Samsung Galaxy Note 5
Pros: 5.7 inch screen is the largest Android display phone. It has a very stunning and effective camera for photos with a slick design and a very hand stylus. Battery life is 6 hours, 10 minutes. $249-$696
Cons: No removable SD card, or battery and is very pricey.
OnePlus2
Pros: Excellent call quality and the first affordable unlocked phone. It navigates well between apps and runs cooler than competition, and a battery life of 10 hours. Excellent sharp close up photos. $450 (low for unlocked phone)
Cons: Software bugs, low availability among carriers-only AT&T and T Mobile
LG V10
Pros: Removable battery, 2 front cameras for wider selfies, and dual displays with a fingerprint sensor. $249-$699
Cons: Pricey for extras you may not need. Battery life is 4 hours, 15 minutes.
Brad's Recommendation for Best Buy: The iPhone 6 for its versatility, availability to repair if necessary, Wifi ability and overall performance.
Forensic Solutions Inc, is the parent company for 911 Data Recovery, Verify ID, 911 Mobile, and Project Safe ID. with solutions to all computer services, cell phone repair for both android and iPhones, and identification tags for pets, children, and home repair workers. Services include back-up solutions, updates, virus/malware repairs, monthly maintenance for small businesses, remote repair, server maintenance, data networking, and recovery of data. 911 Data Mobile repairs cell phones immediately in any condition. Cracked screens can be prevented by adding a tempered screen protector for a minimal $15 charge or 1/10 the charge of a new screen. Cash is given for exchange of old iPhones also. Who would go a day or even hours without your cell phone?
For additional information about 911 Data Recovery or Forensic Solutions, Inc visit the website at:
www.911DataRecovery.org or
www.911mobile.org
Follow them on Facebook or call 281.891.3872. Please visit the location ad check-in on Facebook for an additional discount.
911 Data Recovery
12621 Hwy 105
Conroe, 77304
911 Data Recovery Stories: (1)