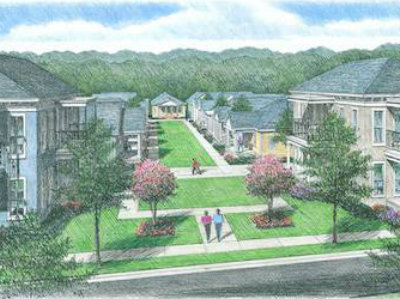 CONROE, Texas - Palmetto MDR announced today a new 71-acre senior-focused community to be developed on South Loop 336 north of The Woodlands, one-half mile west of the upcoming Grand Central Park development.
Four projects are slated for the property which could create a new generational type of 'continuing care retirement community' with loosely affiliated senior business interests near the many amenities of Grand Central Park, Conroe and The Woodlands.
The Cottage Green, the largest portion of the project is a cottage and apartment rental community which will sit on 53 acres with approximately 175 homes that are not age-restricted and an additional 135 age-restricted homes for independent living. The age-restricted area be will in a separate enclave and gated for more exclusive living. The combined 310- home, premium-positioned project is dubbed 'The Cottage Green.'
Amenities and common areas will also be built including: exercise facilities, pools, individual garden plots, tree groves, walking trails, ponds stocked with fish, a bird sanctuary, a sculpture garden, guest quarters, and an active community center. A pharmacy property is planned across Loop 336 on commercially-planned acreage also controlled by Palmetto MDR. This is in addition to the shops, restaurants and businesses that will be just down the street at the 2,046 acre master-planned community, Grand Central Park.
The Conroe Regional Medical Center and other medical facilities are also nearby on Loop 336 and I-45N.
'We were looking for a site where we could execute this senior-oriented concept and had found this location before Grand Central Park was announced,' said Tim Crawford, owner of Palmetto MDR. He added, 'Now that Grand Central Park will be so close by, we couldn't be more excited to launch our high-end rental community.'
Palmetto MDR will be the developer of The Cottage Green project and is currently going through the engineering and permitting phase for a projected construction start before the end of 2016.
The remaining 18 acres of land is planned for two other senior properties. Adjacent to The Cottage Green age-restricted portion of the property on the north side of Loop 336 is seven acres. The development plans for this property include a senior-assisted living and memory care property. There is also room for a transitional care unit with rehabilitation and skilled nursing services.
Palmetto MDR is now beginning a search for a developer/operator partner. On the south side of Loop 336, adjacent to the planned pharmacy property is an additional 11 acres of land Palmetto would like to sell to a separate developer for a more urban-oriented senior rental apartment community containing 120-170 living units on elevator-accessed floors.
When completed, the entirety of the four projects in one location would create the largest retirement community in the Houston metro area. For more information on the projects please contact Tim Crawford at tim@palmettomdr.com. For more information on Palmetto MDR please visit the website at www.palmettomdr.com.