/

/

Mardi Gras in Historic Downtown Conroe on Fat Tuesday Feb 9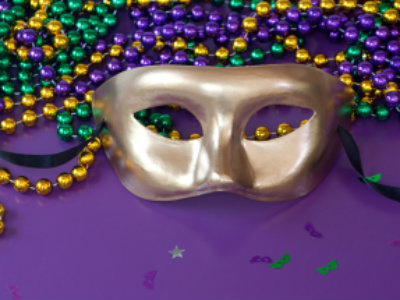 CONROE, Texas - There's no need to drive ninety miles to celebrate Mardi Gras, or even more, 350 miles, if trekking to New Orleans instead of Galveston. The Rotary Club of Conroe will be having a Mardi Gras fish fry, hosted at Sacred Heart Catholic Church, on Fat Tuesday, February 9, from 6 to 8:30 p.m.
Rotary Club of Conroe to throw Mardi Gras party.
Tickets are available from Conroe Rotarians for $20.00 for those six and older. Kids under six years old are free. Each ticket entitles a person to a fried or blackened fish entree, hush puppies, cole slaw, potato salad, tea, prepared by award-winning Chef Scott Golemon and his cook team of volunteers. Beer and wine are available at a nominal additional cost from a local Brewer and Bernhardt Winery.
Live entertainment will provided Mardi Gras music, while attendees shop the silent auction. A few select items will be auctioned off live, and proceeds will benefit numerous local charities for scholarships, literacy, and many other essential causes. To donate auction items, contact Auction Chairperson, Cecily Kelly, at cecilyk@aol.com.
The Rotary Club of Conroe Foundation, a 501(c)3, lists the following philanthropic causes to benefit from the event…
Student mentoring and School support at Runyan Elementary School in southeast Conroe.
The "I LIKE ME" book program for the first graders in Conroe Schools.
Dental Assistance Program for Children in Conroe schools.
Student scholarships for graduating Seniors at Conroe High School.
Interact Club sponsorship at Conroe High School and Rotaract club sponsorship at Lone Star Community College.
Youth Leadership Training Camp for Conroe High School Juniors.
Polio Plus Program for the world-wide eradication of Polio.
Emergency Response for disaster relief via Emergency Tent Boxes and direct aid for the recent tornado disaster in the Dallas Metro-plex.
The fish fry will be hosted in the Sacred Heart Catholic Church gymnasium located in the 700 block of Old Montgomery Road (FM 2854), approximately 500 feet west of North Frazier Street in historic downtown Conroe. Free onsite parking is available between Old Montgomery Road and the gymnasium; entry to the event will be at the northwest door of the gym.
For further event information, visit www.Conroe-Rotary.org or contact Event Chair, Ron Saikowski, at rsaikowski@comcast.net or 713-252-3729.
Save time and wear and tear on your car. Mardi Gras in historic downtown Conroe.
#MardiGras #ConroeRotary #HistoricDowntownConroe