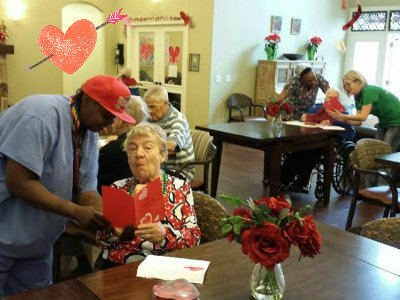 CONROE, Texas - The seniors at the Village Green in Conroe, were shown the love for Valentine's Day with Valentine cards, cookies, and chocolates, compliments of Carolyn Gerken, founder and director of A-Plus Caring, Community & Compassion, a 501(c)3 non-profit organization in Montgomery County that focuses on segments of the population that the community often loses focus of.
A-Plus Caring, Community & Compassion sponsors Valentine party.
The surprise Valentine party was sponsored by Gerken, who played Cupid, passing out the Valentines, serving cookies, and distributing boxes of chocolates, assisted by her friend, Nanette Lunt.
"This is one of my favorite places to visit," said Gerken. "The small group allows for more one-to-one involvement which I enjoy, and I think the seniors do to."
The Village Green caters to seniors with memory issues, and currently has sixteen residents with capacity for twenty. The staff prides itself in providing an environment with a home feeling, allowing residents the freedom to move about the the 'home' and grounds, and the free will to choose what activities they wish to participate in.
The staff is extremely diligent about the safety and well-being of each resident, but encourages independence and freedom of choice. The term 'family' is emphasized by eating family style while being served served fresh, homemade meals, and enjoying activities together as a family. Activity programs consists of therapeutic activities based on the needs, abilities, and the various levels of acuity of each resident. Activities also include parties, movies, religious programs, arts, crafts, and games, as well as small group and individual activities.
The Village Green encourages the community to drop by for visits and provide activity functions, but call first to schedule an event as their residents keep an active schedule. For more information about the Village Green visit their website at the link provided, or call 936-760-2424. You can also follow their activities on Facebook.