/

/

Leadership Montgomery County Class explores local infrastructure at session sponsored by Entergy Texas
Leadership Montgomery County Class explores local infrastructure at session sponsored by Entergy Texas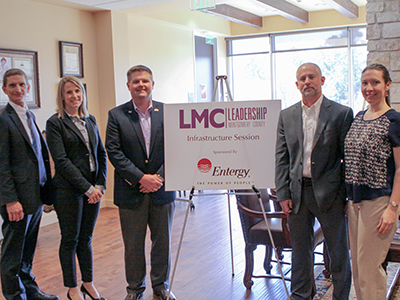 MONTGOMERY COUNTY, Texas — The Leadership Montgomery County (LMC) Class of 2016 recently got a look into some of the latest issues and accomplishments in infrastructure in Montgomery County at their Infrastructure Session sponsored by Entergy Texas.
The Infrastructure Session allowed the 45 business and community leaders to take a deeper look into the inner workings of the county, from water and electricity to roads and more. Erich Peterson of Jones & Carter served as the session director, planning the day for the class. The day began with an overview of infrastructure from Peterson and Virgil Yoakum of Woodforest Development, explaining how it happens including the funding and how growth affects it.
The morning part of the day, held at the San Jacinto River Authority, focused on public works and water. Scott Taylor, director of infrastructure services for the City of Conroe spoke about the public works perspective. Paul Nelson of the Lone Star Groundwater Conservation District presented on water regulations in Montgomery County. San Jacinto River Authority General Manager Jace Houston spoke to the class about the San Jacinto River Authority and it's role in the county, before the class took a tour of the Lake Conroe Dam. Allen East of Entergy Texas then spoke to the class about the electricity infrastructure in the county and the region.
The class spent the afternoon seeing some of the county's infrastructure. After a presentation by Airport Director Scott Smith about the Conroe North Houston Regional Airport at the Galaxy FBO, the class was given the opportunity to view the airport from the airport tower and get a behind-the-scenes look at the apache helicopters at the airport.
To end the day, the class visited the newly opened San Jacinto River Authority surface water treatment plant for a presentation by Mark Smith, division manager of the SJRA GRP Division, and a tour of the plant.
"The class saw the many facets of infrastructure and how it comes to life," said Peterson. "This is a great class of current and future leaders of Montgomery County."
Leadership Montgomery County (LMC) is a 501(c)(3) nonprofit organization, dedicated cultivating the future leaders of Montgomery County. The mission of LMC is to prepare emerging and existing leaders to understand local issues, grow their leadership skills and connect with others to better serve Montgomery County.
The Conroe/Lake Conroe Chamber of Commerce, The Woodlands Area Chamber of Commerce, the Greater Magnolia Chamber of Commerce, the Community Chamber of East Montgomery County, the Montgomery County Hispanic Chamber, and the Magnolia Parkway Chamber of Commerce are all partner Chambers in the LMC program. Participants are chosen by application process in June of each year.
For more information about Leadership Montgomery County, please visit LMCTX.org.