/

/

Conroe Farmer's Market March 3 (see featured videos)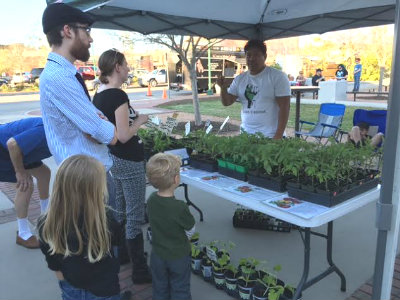 CONROE, Texas - The Conroe Farmer's Market this Thursday, March 3, will feature several new vendors in addition to the standard favorites that have been setting up at the market the first Thursday of each month.
New vendor Vintage Foods will be on hand selling jellies, jams, Pitzellies, Honey Stix and raw local honey. Also joining the market is Eco-topia with organic lotions, skin care products and natural solutions, and the Texas Gypsy with goat's milk soaps and solid lotion twist ups. For spring planting: Black Beauty Zucchini, 4 varieties of heirloom tomatoes, 5 varieties of eggplant, 5 varieties of hot and sweet peppers, blue lake bush green beans, Japanese greens, etc., and Brute lite Dyed will have the latest in spring fashions. The dedicated return vendor list includes...
Bits n Bobs(see video)
Ceclia Handmade Knitted items
Griffin Beverages-Honey Mead Wine
Kathryn Marks
Laura's Zipper Purses (see video)
Lynne's Country Lane
Mockingbird Baby (see video)
Nut N Honey
Nykokas Oils
Redneck Feng Shui (see video)
Terry Reardon-jewelry and scarves
Vintage Foods
Whitman Farm/The Honey House
The market sets up at Founder's Plaza from 4 - 8:00 p.m., located at the corner of Metcalf and Main Street in historic downtown Conroe. Adherence to stringent requirements of only original artwork, artisan projects, homemade items, and produce, guarantees customers with a unique shopping experience.
Food trucks Cousins Maine Lobster, Burgers and More, and Skye Cafe will be on site for your dining pleasure, with entertainment as well with Bluegrass Jam. Bring the family and support your local small business entrepreneurs. Spaces are $25 for any interested vendors. Click on the application link for the complete list of guidelines, and also the Conroe Downtown Area Association website for additional information. 'Budding' farmers wishing to sell produce contact Margie Taylor of Taylorized PR at 936-828-6881.
#DowntownConroe