/

/

UPDATE: Former First Lady Nancy Reagan to be buried Friday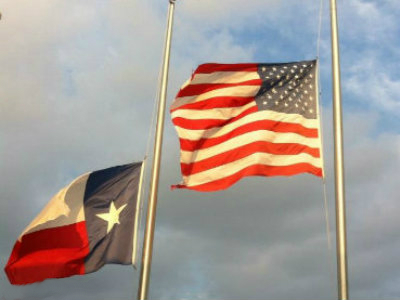 UPDATE:
Former First Lady Nancy Reagan will be buried today, March 11, 2016. Flags have been ordered at half-staff until sunset today, the day of her internment.
UPDATE:
WASHINGTON, D.C. - President Barack Obama has ordered flags lowered to half-staff Monday at the White House, all federal buildings, U.S. embassies, military posts, and naval vessels, in honor of the memory of former First Lady Nancy Reagan until sunset on the day of her interment.
ORIGINAL ARTICLE:
Former First Lady, Nancy Reagan, wife of Ronald Reagan, the 40th President of the United States, has passed away of congestive heart failure at the age of 94. She was the First Lady from 1981 to 1989, during former President Reagan's two terms of office, and whom some suspect acted in the capacity of the President when Reagan succumbed to Alzheimer's disease his latter years in office, making her theoretically. the first woman U.S. President.
During her tenure as First Lady, Nancy Reagan created and championed her "Just Say No" campaign to aid in fighting the country's war on drugs, to discourage the country's youth from engaging in illegal recreational drug use. The scope of the campaign was eventually expanded to cover premarital sex as well as drug use.
She also worked ardently for breast cancer research, having survived it in October 1987, when a mammogram detected it in her left breast. It was surgically removed that same month.
Another cause she championed until her death, was Alzheimer's. Ronald Reagan was officially diagnosed with the disease in 1994 at the age of 83, and died from it ten years later. Her influence in these three essential causes defined First Lady Nancy Reagan, as well as her sense of style. She preferred the color red, calling it "a picker-upper", and wore the fire-engine shade of red often. It eventually became known at "Reagan Red."
In lieu of flowers, Mrs. Reagan asked that contributions be made to the Ronald Reagan Presidential Library and Foundation at www.reaganlibrary.com. Prior to her funeral she will lay in repose at the Ronald Reagan Presidential Library for those who wish to pay their respects.