Winkelmann Education Center named after long-serving president of Friends of Texas Wildlife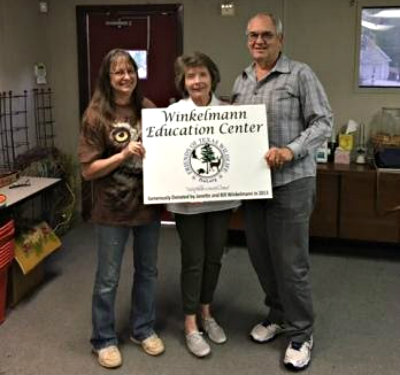 MONTGOMERY COUNTY, Texas - Close friend and long-serving president of Friends of Texas Wildlife (FTWL), Janette Winkelmann, was honored by the FTWL Board recently with the naming of the WINKELMANN EDUCATION CENTER.
FTWL names education center after Janette Winkelmann.
Friends of Texas Wildlife supports the rehabilitation of native Texas wildlife and promotes co-existence of wildlife and people through education. The Winkelmann Education Center is located on the grounds of FTWL Intake Building, Highland Blvd, Magnolia, Texas.
For more information about Friends of Texas Wildlife, visit www.ftwl.org
The Humane Society of Montgomery County needs a total of 100 to 125 volunteers to serve various 4-hour shifts 'manning' the concession stands during the Waterway Arts Festival, April 8-10. HSMC benefits financially by volunteering during the festival.
This a fun event for you, your family and friends, PLUS the day you volunteer, you will be able to spend some time visiting the wonderfully creative artists that come to the WWAF.
Contact Gary Louie at 281-221-0132 or gary.a.louie@gmail.com for more information.
#HSMC #WWAF
Humane Society of Montgomery County Stories: (1)