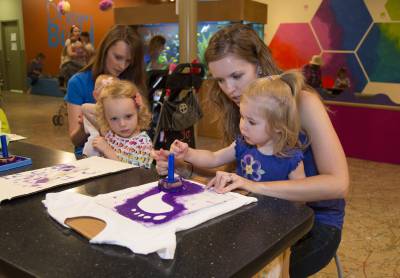 THE WOODLANDS, Texas – There's one day each year that children are invited to break the usual rules and take off their shoes and socks at The Woodlands Children's Museum.
Join forces with TOMS to raise awareness of children living in poverty on May 10
The museum joins forces with TOMS, a conscientious shoe retailer, to help make the world a better place – one foot at a time.
By going barefoot on TOMS One Day Without Shoes, scheduled for 10:30 a.m. to 2 p.m. on Tuesday, May 10, the museum and TOMS hope to increase global awareness of how difficult life without shoes can be.
Angela Colton, executive director of The Woodlands Children's Museum, said shoes are just a symptom of a larger problem.
"This is about so much more than what you wear on your feet," she said. "By simply sharing sensory experiences with children, we hope to focus on the issues of children whose basic needs are not met and how their lives change when receiving something so many of us take for granted."
Providing children with shoes can help meet school uniform requirements, enabling them to attend school regularly, she said, explaining that wearing shoes and practicing good foot hygiene also helps prevent the spread of the debilitating disease podoconiosis, which is caused by going barefoot in certain soils.
The museum is encouraging children to participate in the small sensory walk, make T-shirts and have their toenails painted with a complimentary mini-pedi being offered on TOMS One Day Without Shoes. In addition, children can participate in a collaborative footprint painting project that will be sent to TOMS upon completion.
The event is included in the cost of admission, which is $6 per person 1 year and older.
Located at 4775 W. Panther Creek Drive, Suite 280, in The Woodlands, 77381, the museum has a full calendar of exciting activities.
To learn more about The Woodlands Children's Museum, its hours of operation and ways to support the nonprofit, visit woodlandschildrensmuseum.org or call 281-465-0955. The museum is always looking for sponsors or partners for events. Follow the museum's Twitter handle @thewoodlandscm.
About The Woodlands Children's Museum
The Woodlands Children's Museum is a 501(c)3 nonprofit organization dedicated to educating, empowering and exciting children and their families in lifelong learning and discovery. The Museum also provides multi-ethnic and multicultural experiences encouraging children to celebrate and embrace cultural and global differences and strengthen common bonds. Year-round, hands-on activities – from reading and art to science and magic – are all intended to make a positive difference in the life of a child. The museum also offers free admission to military personnel and their families and is a proud member of the Blue Star Museums program. woodlandschildrensmuseum.org.