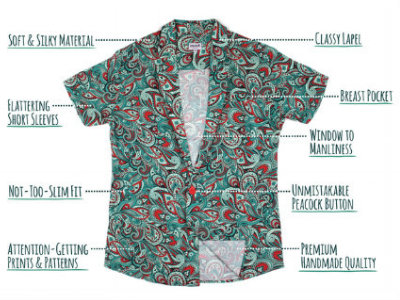 TEXAS - The Peacock Shirt is the world's first one-button summer shirt for men. Peacock Summer founders Joe Kane, 31, and Garrett Dobbs, 26, came up with the concept for the Peacock Shirt while traveling through Asia together and exploring many of the world's most beautiful beaches.
The Peacock shirt...a one-button version of the Hawaiian print classic.
"We were so tired of tank-tops," says Garrett, "We would look around these stunning beaches and every guy, including us, was wearing an old tank-top or t-shirt. We wanted something more fun and flashy to wear to the beach, and since we couldn't find what we were looking for we decided we had to make it ourselves."
When Joe and Garrett returned home to Dallas they got to work designing what they now call the Peacock Shirt. The shirt is made in Indonesia near the beaches that inspired it, from soft and silk-like Indonesian rayon.
"We designed a print in three colorways that really earns the Peacock Summer brand name with its ability to catch your attention," says founder Joe Kane. "We gave the shirt a lapel that ends at one single button, to mimic the cut of a blazer but also allow guys to show off their chest. In our eyes, it's the perfect balance between classy and crazy."
Peacock Summer hopes to achieve success with this and future crowdfunding campaigns, so that they can continue to release summer apparel that aims to make the summer more fun and enjoyable. After all, the proclaimed mission of Peacock Summer is "Summertime. All The Time. Everywhere."
A summer-centric fashion company called Peacock Summer launched their first Kickstarter campaign this month with positive reception thus far. The purpose of the campaign is to raise funds for the production of their first product, the Peacock Shirt.
To learn more about the Peacock Original One-button shirt, visit the link provided.