/

/

UPDATE: Montgomery County, Texas & nation pay respects to Sgt. Stacey Baumgartner, Patton Village Police Dept
UPDATE: Montgomery County, Texas & nation pay respects to Sgt. Stacey Baumgartner, Patton Village Police Dept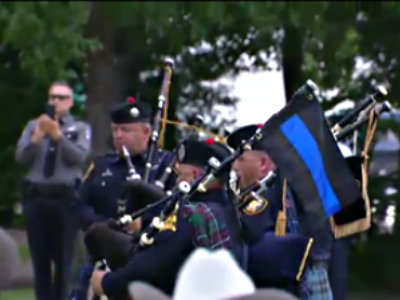 UPDATE: June 24, 2016
Montgomery County law enforcement agencies and first responders, officers from across Texas, and some from out of state, paid their respects to Sgt. Stacey Baumgartner of the Patton Village Police Department Friday morning, June 24, 2016. Pearland Police Department was well represented, just having buried one of their own, Endy Ekpanya, three days ago on June 21. Ekpanya was also killed in the line of duty, when he was hit by a drunk driver.
In addition to the Patton Village Police Department, other law enforcement agencies included both the Montgomery County and Harris County Sheriff Deparments, the Department of Public Safety, the Constables offices in the four districts of Montgomery County, and the police departments throughout the county...Conroe, Magnolia, Montgomery, Oak Ridge, Porter, Roman Forest, Shenandoah, and including Spring. Every municipality of the Greater Houston area was represented, and law officers came from as far as Corpus Christi and Dallas. It's reported that out of state police departments were also present.
The memorial tribute included the Houston Police Department's Honor Guard presenting a 21-gun salute, HPD helicopters missing man formation, and the Pipe and Drum Corps from the Dallas Police Department. Last Call was broadcast on all the Montgomery County Sheriff Department channels.
The flag tribute at the Woodlands Church was erected in tandem by The Woodlands and Needham Fire Departments, and at the cemetery by the Porter and Eastex Fire Departments. Other first responders present included the East Montgomery Fire Department, Caney Creek Fire Dept., and the Montgomery County Hospital District.
The video is just half of the funeral procession...
Sgt. Stacey Baumgartner's funeral possession - End of Watch 06-19-2016
UPDATE: June 21, 4 p.m.
The location of Sgt. Stacey Baumgartner's funeral has changed to better accommodate those who wish to attend.
The funeral will be at Fellowship of the Woodlands located on One Fellowship Drive, east of Gosling and south of SH 242, in The Woodlands, TX (77384).
See photos of the memorial tribute by clicking on the view more photos link.
ORIGINAL ARTICLE:
PATTON VILLAGE, Texas - Funeral arrangements have been made for Sgt. Stacey Baumgartner who was killed in an automobile accident Sunday evening while in pursuit of a suspect.
The visitation will take place Thursday evening, June 23, from 5 - 8:00 p.m., at the Kingwood Funeral Home located at 22800 Hwy 59 North in Kingwood (77339), east of Hwy 59N, south of Kingwood Dr.
The memorial service will be the following day, Friday, June 24, at 10:00 a.m., at First Baptist Church at 19901 Townsen Blvd E in Humble, TX (77338); east Hwy 59N, north of FM 1960.
The graveside service will follow at Brookside Funeral Home and Cemetery at 13747 Hwy 59N, south of Aldine Bender Road (77039).
A reception in St. Baumgartner's honor will follow at Bull Sallas Park located at 21681 McCleskey Rd, in New Caney (77357), just north of the Grand Parkway (99) and west of Hwy 59N.
Sgt. Baumgartner's wife requested privacy during this very difficult time by issuing this statement…
"I am asking everyone to please respect me, my family, and my friends in our time of grieving. Thanks to all my family, friends, and LEO family for being there with me through this it is greatly appreciated!!"
The Baumgartner's family has set up a GoFundMe page to help with medical expenses, funeral arrangements, and any other unforeseeable expenses that the family may incur.
A memorial fireworks tribute provided by Celestial Displays was held Saturday, June 25.
See related story...
Patton Village sergeant killed in chase through north Montgomery County (updates)