Give the Gift of Wearable Art local artist transforms her art into fashionable accessories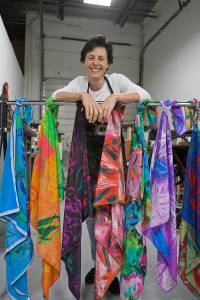 The only way to avoid stressing out when the holidays come is to start your shopping now.

And as thoughtful, unique gifts go, art is always a good choice. Painter and printmaker Anne-Joëlle Galley wants to make that option even better.

'It is hard for someone to share the art on their walls with others,' Galley said.

That's why she has started using her own art to design accessories.

She transformed some of her paintings into luxury scarves and handbags, available on her brand new website – annejoelledesigns.com.

'I want to make the connection between looking at art and wearing art,' she said. 'I think my designs are very attractive and wearable. This is a fusion between art and fashion.'

Her art has always been rooted in her love of color, which first captured her imagination as a child growing up in Mexico.

'Go to a market in Mexico, there is so much color everywhere,' she said. 'There are arts and crafts and textiles everywhere, bright pinks, oranges and blues. Even the houses are all painted very different shades. Everywhere you look there is a perpetual intensity of color.'

And that has become the heart of her work.

'I'm not afraid to mix colors,' she said. 'Let's just go for it. I do use black and white, but not very much. I have even tried to work monochromatic, but I just can't. I'm in love with color.'

Her first scarf, a print called, 'Red Roses,' was from a piece she felt translated well to something people could wear.

'Another one of the initial designs was very emotional,' Galley said. 'It's from a painting I did for my dad called 'Pink Hibiscus.' That was one I really wanted to do. I thought it had a mixture of colors that would be great as a scarf. It's the anchor of the collection.'

That first collection consists of seven scarves -- potentially one for each day of the week.

'They all had the same theme of flowers,' Galley said. 'The colors make the scarves versatile. Each can become many different scarves in one depending on how you wear it.'

Galley is now building her second collection, featuring two scarves so far with a third on the way. 'The second collection is on a heavier silk,' she said. 'It's a little bit more abstract, a little more modern.'

And she isn't stopping at scarves. Galley is creating handbags too - -and has some more ideas in the bag.

'It is always a natural evolution into the next thing,' she said. 'It was natural to do the handbags next. There will be a new set of evening bags for Christmas. Eventually, I'm thinking about doing blouses.'

It's a labor of love, with each new spark of inspiration taking considerable time and work to see to fruition. 'It takes a long time to find the textiles and manufacturing,' she said. 'It's a process.'

The quality of the work is of upmost importance for Galley. 'I want everything to be hand finished, and the printing to be high quality,' she said. 'If you're going to be wearing something you can call art you want it to be exceptional. The end product and packaging come from France and the U.K.'

She points out that as a gift, her items are special because they are unique and uncommon. 'These are very original, limited edition pieces,' she said. 'There won't be many other people in the world with the same thing. Each of these are very personal to me, they are unique. Instead of just buying someone a scarf, you can buy them a piece of art they can wear.'

Anne-Joëlle Galley is a Houston-based international painter and colorist who exhibits internationally and whose paintings are held in numerous private collections around the world. She studied in Europe in the 1980's, attending various ateliers and art courses at Sotheby's and ICA-Institute of Contemporary Art/Christies in London). In New York City in the late 1990's she joined the 'Art Students League of New York,' of which she is a lifetime member.
She has shown in numerous group exhibitions, and her first solo presentation was in New York in 2002. She has been a selected participant in the I Bienal of Etching and Graphic Work in Cáceres, Spain, and in the Florence Biennale of Contemporary Art in Italy.
For more information about Anne-Joëlle Galley and Anne-Joëlle Designs visit annejoelledesigns.com and annejoelle.com.