/

/

Local moms cook together, make community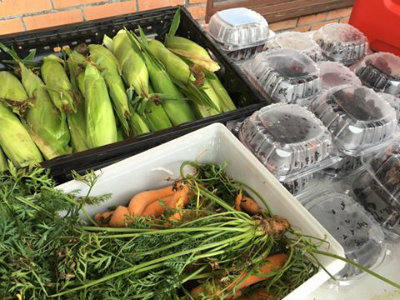 CONROE, Texas - Families at Buckner Family Pathways will share a table and classroom, learning to cook with healthy nutrition in mind, at 1 p.m., Friday, July 15. The class is part of a weekly nutrition education program taught by the local Texas A&M AgriLife Extension Service.
"It's perfect," said Pathways participant Valencia Washington, "I get out of school Friday afternoon and come right in. I enjoy learning new things. The class is a good way to learn cooking with other moms and get to know one another."
Valencia Washington and her daughter Kimber, 3, have attended the weekly classes throughout the summer. Valencia and Kimber like to bake together on Saturdays.
"There is such joy, 'learning in real time,' when children join their parents in the kitchen and at the table," Texas A&M AgriLife Extension Assistant Michele Scaife said. "It's so good to be a part of the encouragement and positive interaction between these wonderful families."
Better Living for Texans is a statewide nutrition education program for adults and kids who want to learn how to eat well and save money.
"These classes cover how to choose foods that are inexpensive and good to eat, make food dollars last longer and help children choose healthy snacks," Scaife said. "Our program focuses on audiences in lower-income communities to help improve food security, diet quality, nutrition knowledge, and food safety skills."
Buckner Family Pathways has operated in Conroe since 2010, providing single-parent families with an opportunity to live in a safe, secure
environment. While completing educational and vocational goals, families develop skills for self-sufficient, healthy households.
"I'm a family-oriented person," Washington said. "I really love how this has become a chance to share that with other moms. It feels like a family dinner table. Even if you didn't grow up with that experience, you get it here."
Buckner International is a global, faith-based ministry dedicated to transforming the lives of vulnerable children, families and elders in the United States and around the world.
Founded in 1879 in Dallas, Texas, today Buckner serves people worldwide through a variety of programs designed to protect children and build strong families. These programs include foster care and adoption, family transition programs, community-based family preservation programs and retirement services for the elderly.
Buckner also provides humanitarian aid and crisis relief to children and families in the United States and worldwide. Learn more and get involved at buckner.org.