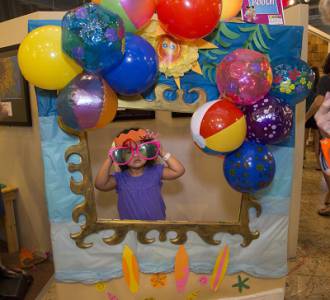 THE WOODLANDS, Texas - Celebrate back to school with one last, big summertime bash at The Woodlands Children's Museum. Shake Your Summer Sillies Out is a full day of fun, slated for 10 a.m. to 5 p.m. on Friday, Aug. 19.

The day will feature games, live music by Tom's Fun Band, art projects, face painting and an air guitar show featuring Brock McRock.

In addition, Claude Sims will perform a juggling act, Straws the Clown will put on a magic show and Heather Says will show off her skills with hula hoops.

"We all want our children to have the most wonderful time saying goodbye to their summer vacations," Angela Colton, executive director of the museum, said. "We also want them to know that going back to school is something worth getting excited about."

Admission to the event is included in the cost of admission of $6 per person 1 year and older. The museum is recommended for ages 7 and under.

For a complete schedule of the day's events, and to learn more about The Woodlands Children's Museum, its hours of operation and ways to support the nonprofit, visit woodlandschildrensmuseum.org or call 281-465-0955. The museum is always looking for sponsors or partners for events. Follow the museum's Twitter handle @thewoodlandscm.

The Woodlands Children's Museum is a 501(c)3 nonprofit organization dedicated to educating, empowering and exciting children and their families in lifelong learning and discovery. The Museum also provides multi-ethnic and multicultural experiences encouraging children to celebrate and embrace cultural and global differences and strengthen common bonds. Year-round, hands-on activities – from reading and art to science and magic – are all intended to make a positive difference in the life of a child. The museum also offers free admission to military personnel and their families and is a proud member of the Blue Star Museums Program.
Say goodbye to summer with fun activities and entertainment at The Woodlands Children's Museum's annual Shake Your Summer Sillies Out event scheduled for Friday, Aug. 19.