/

/

Heavy Trash Day scheduled for Oct 8 in East Montgomery County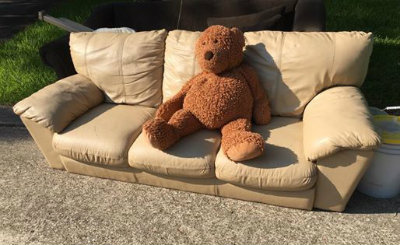 New Caney, TX − East Montgomery County residents will get a chance to safely clear the garage, the attic and the backyard when county officials host "Heavy Trash Day" this fall.
Precinct 4 County Commissioner Jim Clark has announced the next heavy trash day will take place from 8 a.m. to 2 p.m.
Oct. 8. Area residents can drop off oversized, heavy or cumbersome household items at any of four locations:
Community Development Center, 16401 First Street, Splendora

Precinct 4 Offices, 23628 Roberts Road, New Caney

1314 Fire Station, 14821 FM 1314, (near Stidham Road) Conroe

Old Grangerland Community Building, FM 2090 and FM 3083
Acceptable items include furniture, boats, tires, motorized equipment, exercise equipment, most appliances and most other household equipment. Items not allowed include paint, chemicals, televisions and monitors, oil, tree limbs/vegetation or traditional household garbage.
"We hold these special events twice a year to help area residents dispose of larger than usual household items at no cost," said Commissioner Clark. "It's a great opportunity to make sure the items are safely recycled or disposed of in a proper manner."
Seniors or disabled residents in need of assistance can call 281-577-8919 starting Sept. 26 to arrange for pick up at their home. For additional information, contact Marie Moore, Precinct 4 Administrator, at 936-760-6998 office, 936-499-9729 cell or by emailing marie.moore@mctx.org.