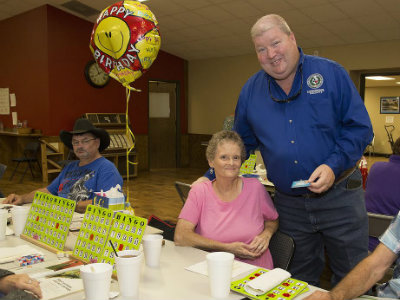 New Caney, TX − Senior citizens in Precinct 4 have a trio of county supported recreational facilities in which to gather, converse and enjoy a meal with friends − more options than the rest of Montgomery County combined.
East county area provides three recreational facilities for seniors.
New Caney's East Montgomery County Senior Center is the primary facility serving area residents over 60 years of age with regular meals and activities. With the support of Meals on Wheels, the center provides weekday lunches, transportation and a wide range of programs and activities for seniors.
"We also have Splendora Senior Friends, meeting every Monday, Wednesday and Friday for recreation and a monthly pot luck lunch," said Rhonda Behnken, facility coordinator. "And the Security Community Center has 'Senior Bingo Buddies' and a pot luck lunch every Wednesday."
Connie Carle, coordinator of the Security event, said the weekly gathering is a welcome highlight for attendees for East County residents.
"We usually have 25 to 30 or more attendees," said Carle. "They appreciate the support from the community and Commissioner Clark who is attends frequently."
In New Caney, the Monday through Friday programs are increasingly popular, attracting crowds upwards of 150 − and more − to the EMC Senior Center on bingo days, Tuesdays and Thursdays. County residents can enjoy a continental-style breakfast and hot lunches from Meals on Wheels Montgomery County. At present, the only other active senior centers in the county are the Precinct 3 facility in The Woodlands and a Precinct 2 facility in Magnolia.
In addition to meal programs, the primary EMC Senior Center offers a wide range of activities, including puzzles, board games, dominoes, computer games and an extensive library of donated books. There are also a number of special themed events throughout the year, but it's bingo that gets the most interest and the biggest response, according to Behnken.
"We offer a huge prize table of nonperishable food and household items for the many winners we have," said Behnken. "Coming to the center to spend time with friends is an important part of their lives."
It's a sentiment shared by friends and EMC Senior Center regulars Betty Brockman and Pat Kocijan.
"The people here are so friendly and accommodating," said Brockman, 73, of Humble. "We really enjoy ourselves."
Kocijan, 79, of Splendora, agreed, saying the meals, the recreation and the attention are important to seniors, especially those living on limited means. Precinct 4 Commissioner Jim Clark presents gifts to seniors celebrating birthdays each month.
"Seniors are a vital and important part of our community and I feel strongly about supporting them," said Clark. "We are proud to have active and successful programs in east Montgomery County."
EMC Senior Center is located at 21679 McCleskey Road in New Caney; Splendora Senior Friends is located at 16401 First Street in Splendora and the Security Community Center is located at 18760 Texas 105 in Cleveland.
For more information on programs, hours, schedules and activities available in East County, visit EMC Senior Center on Facebook or call 281-354-1223.