Lone Star College-Montgomery is calling all seniors ages 50+ to go back to school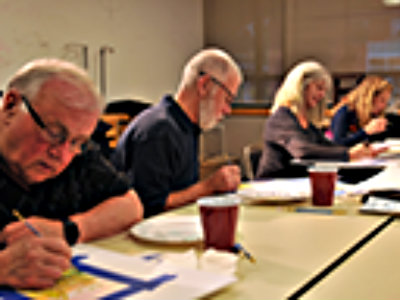 CONROE, Texas - Are you 50 years old or older and looking for unique way to stay active and engaged in retirement or semi-retirement? Discover the only Lifelong Learning Institute in north Houston! The Academy for Lifelong Learning (ALL) at Lone Star College-Montgomery will host an open house Saturday, Aug. 13, from 11 a.m.-1p.m. downstairs in the Atrium of the Health Science Center (building B).
"ALL helps adults in the area keep learning and stay connected close to home," said Steven Gorman, ALL program manager at LSC-Montgomery. "ALL encourages a sense of community and camaraderie. At the open house attendees can meet instructors and socialize with other members."
ALL is a membership organization filled with lectures, seminars and discussions. Classes cover a variety of topics such as art, computer technology, personal growth, languages, history, travel, and more at a fraction of the cost. A small annual membership fee of $35 allows members to take ALL courses free of charge and use the services of LSC-Montgomery, including the Student Tutoring and Research (STAR) Center, the library, Internet access and theater activities. The annual membership lasts from Sept. 1 to Aug. 31.
Each of the six colleges within Lone Star College offers continuing education for older, active adults through the ALL organization. Course offerings and program events vary with each campus. You can choose to join all six campus's ALL Programs for just $55!
ALL class topics are proposed and taught by members, retired and active faculty volunteers, and outside experts. The combined years of real-life experience elevate the intellectual discourse of the classes. Members can also participate in social activities with other older, active adults and share their joy of learning together.
For more information about ALL, contact the continuing education department at LSC-Montgomery at 936.273.7446, or email steven.gorman@lonestar.edu.
LSC-Montgomery is located at 3200 College Park Drive, one-half mile west of Interstate 45, between Conroe and The Woodlands. For more information about the college, call 936.273.7000, or visit LoneStar.edu/Montgomery.
Known for its leadership, innovation and steadfast commitment to student success, Lone Star College provides high-quality academic transfer and workforce education / career training programs to more than 83,000 credit students each semester, and a total enrollment of 95,000 students. LSC is training tomorrow's workforce today and redefining the community college experience to promote student success and economic prosperity. Stephen C. Head, Ph.D., is the chancellor of LSC, the largest institution of higher education in the Houston area, which consists of six colleges, eight centers, two university centers, Lone Star Corporate College and LSC-Online. To learn more visit LoneStar.edu.
Other open houses throughout Montgomery County and at other LSC campuses...
· Aug. 11 (Thursday), 1-3 p.m., LSC-Kingwood, EMCID Center off-site, 21575 Highway 59N, New Caney. Call 281-312-1750 for more information.
· Aug. 13 (Saturday), 11 a.m.-1 p.m., LSC-Montgomery, Building B-150 Atrium, 3200 College Park Drive, Conroe. Call 936-273-7446 for more information.
· Aug. 16 (Tuesday), 10 a.m.-noon, LSC-University Park, EMI Lobby, 11521 Compaq Center West Drive, Houston. Call 281-290-5010 for more information.
· Aug. 18 (Thursday), 1-3 p.m., LSC-Victory Center, 4141 Victory Drive, Houston. Call 281-765-7947 for more information.
· Aug. 18 (Thursday), 2-4 p.m., LSC-Atascocita Center, 15903 West Lake Houston Parkway, Houston. Call281-312-1750 for more information.
· Aug. 19 (Friday), 10 a.m.-noon, LSC-Tomball/LSC-Creekside Center, Beckendorf Conference Center, 30555 Tomball Parkway, Tomball. Call 281-401-1868 for more information.
· Aug. 19 (Friday), 10 a.m.-noon, LSC-CyFair, Conference Center, CENT 151, 9191 Barker Cypress Road, Cypress. Call 281-290-3460 for more information.
· Aug. 24 (Wednesday), 1 p.m.-3 p.m., LSC-North Harris, Community Education Building, 2700 W.W. Thorne Drive, Houston. Call 281-765-7947 for more information.