/

/

Sacred Heart Catholic Church celebrating 100 years of God's love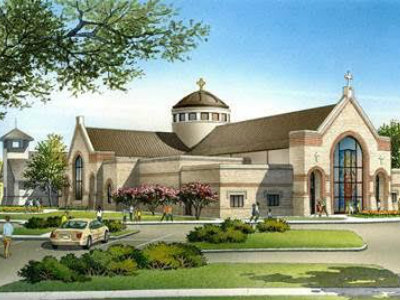 CONROE, Texas - Sacred Heart Catholic Church in Conroe will hold a groundbreaking ceremony to celebrate the construction of our fourth church on Tuesday, August 30, 2016 at 6 p.m. The ceremony will be led by Cardinal DiNardo. The construction of our new church corresponds with Sacred Heart's 100-year anniversary as a parish in Conroe.
On November 20, 2016 at 5 p.m. the parish's 100-year anniversary will be celebrated at a Mass of Thanksgiving with Cardinal DiNardo along with priests, religious and deacons that have served at Sacred Heart Church located at 109 N. Frazier St. in Conroe.
Sacred Heart Catholic Church originally started with 25 souls and was a mission church to St. Mary's in Plantersville and St. Joseph's in New Waverly. On October 24, 1916, at that time it called St. Mary's of the Pines, Conroe had its first Catholic Church. In 1935, St. Mary's of the Pines was dedicated to the Sacred Heart of Jesus.
We thank those 25 souls that built our original church. Our parish continues to grow and is now home to over 7,500 families. Please make plans to joins us for these historic celebrations. Come and be part of the history of Conroe and of Sacred Heart Catholic Church.