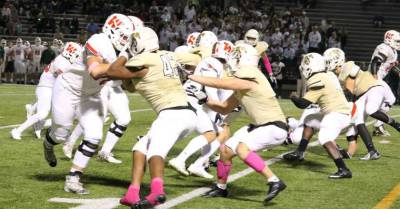 CONROE, Texas -- The Conroe Tigers unfortunately had to delay the start to their season, cancelling their first two games due to the aftermath of Hurricane Harvey.
However, they are finally set to kick off the 2017-2018 season on the road this Friday night against the Seven Lakes Spartans.
The Tigers began last year at a respectable 3-1, but they were not able to pull out a win in district, ending the season at 3-7. As they look to bounce back from a disappointing season, Coach Robert Walker will rely on the run game to give some consistency to their offense. Donaven Lloyd, senior running back and team captain, will be taking the majority of carries for the Tigers. Lloyd showed a lot of potential in his junior year; he is decisive and has great vision at the line of scrimmage, as well as the speed to break to the outside when necessary. If the Tigers offensive line can create space for Lloyd to work, the Tigers will find themselves in the playoff mix.
The Spartans, led by Coach Lydell Wilson, could prove to be a tough test for the Tigers. Although they only put up 2 district wins last year, their district is incredibly competitive, including both Katy and Katy Taylor. Seven Lakes is a better team than their record shows.
The toughest challenge for the Tigers defense will be containing Junior Quarterback Michael Batton. Last season Batton showed his ability to run the read option effectively, while also putting up over 800 yards through the air. With a year of experience under his belt, Batton will be looking to take the next step this season.
These are two teams with a lot of potential that are looking to set the tone for the rest of their season. The Tigers will want to start fast in what should make for a highly competitive game.