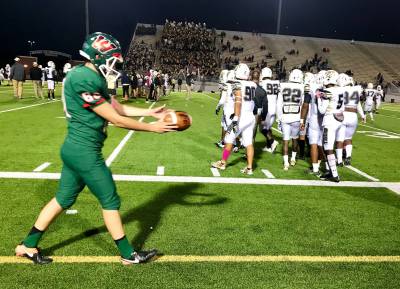 THE WOODLANDS, Texas—Coming off an impressive win last weekend against previously unbeaten Oak Ridge, The Woodlands Highlanders continued their high-scoring ways shutting out Conroe 42-0.
The scoring was opened up early by Texas Tech commit Kesean Carter with his 60-yard punt return touchdown just two minutes into the game. Carter had a relatively silent game from then on but his early score set the tone for the Highlanders. Sophomore running back Bryeton Gilford, last week's Player of the Game with three touchdowns, one-upped himself scoring four rushing touchdowns to go along with 116 yards and another nod as our Player of the Game award.
The Highlanders saw four different quarterbacks get snaps in their Friday night rout of the Tigers. Quinton Johnson started his fourth consecutive week, while Quinn Binney saw action for the Woodlands for the first time since sitting out due to injury. Casey Sunseri and Parker Heath also took snaps in the second half.
Conroe was held to 79 total yards on the night with the Highlanders focusing on the Tigers' game plan to run the ball with running back Donaven Lloyd. Lloyd, last week's Athlete of the Week, accounted for 61 of the Tigers' 79 total yards. It was evident that Conroe's main focus was to get their standout running back the ball early and often. While Lloyd was able to find slight success against the Highlanders defense Tigers' quarterback Jordan Black was unable to get the passing game going, completing only four passes for 22 yards and two interceptions by Kyle Trauffler and Jacob Moore.
The Woodlands remains undefeated in district bringing their record to 5-1 overall and 4-0 in district play. Conroe, unable to capitalize on last week's victory over College Park, move to 1-5 overall with a district record of 1-3. The Highlanders will matchup against the Montgomery Bears while Conroe looks to bounce back in their game with Lufkin.
The game broadcast was brought to you by Sterling Ridge Orthopaedics and Sports Medicine. With replays provided by Re/Max The Woodlands & Spring.