/

/

Mayor Toby Powell - Weekly COVID-19 Updates May 5, 2020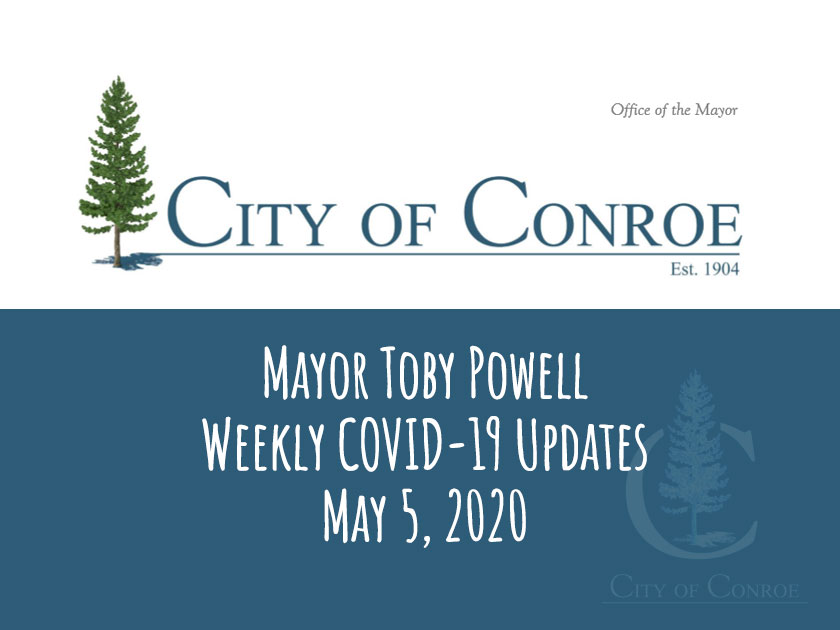 City Staff continues to work round the clock to ensure the citizens of Conroe and this great city remain strong in the face of the COVID-19 Pandemic. As we enter into this first phase of reopening Texas, we have seen businesses opening up, employees returning to their jobs throughout the county and an unwavering strength by the citizens of Conroe.

We must continue to work together to stop the spread of the virus as we push forward in our journey back to a more normal existence. The COVID-19 pandemic is not over and we encourage citizens to continue to follow the CDC Standards and Guidelines.

• Practice social distancing • Wash hands • It is highly recommended you wear a face mask in public to protect yourself and others

God bless the citizens of Conroe and our wonderful community. We need to continue to work together in a unified approach so we can safely and cautiously begin to reopen our economy.

The following are updates from city staff for this week of May 4, 2020:

Finance & Administration Department:

All of Finance Divisions (Fleet, Purchasing, Warehouse, Utility Billing, Information Technology (IT), Geographic Information Services (GIS), Internal Auditor, Budget Staff, Accounting, Facilities Management, and Municipal Court are fully functional (i.e., staff are working full-time either at their normal jobsite or remotely) and are keeping pace with the normal workload.

• Utility Billing - All Meter Techs are reporting directly to the field and are working fulltime. However, to keep our public safe our Utility Billing Office lobby will remain closed to customers until May 18. All payments are being received by US Mail, through our website, at local grocery stores, over the telephone, the JACK machine, and/or by a drop box located at City Hall.

• Facilities Management - All rentals of the 6th floor have been cancelled, the Owen Theater, and Madeley Building are all currently closed. Maintenance Technicians are dedicating additional time during the day to disinfecting.

• Municipal Court - All Municipal Court staff (i.e., the Municipal Court Administrator, Deputy Court Clerks, and Warrant Officer) will report to the office on a full-time basis beginning May 4, 2020. Beginning May 11, 2020, the lobby area will be opened to the public within certain constraints for social distancing. Trials have been moved to July. Payments are being received through the US Mail, through our website, and using the JACK machine.

Police Department:

• Patrol is fully staffed and working every day.

Fire Department:

• Stations are staffed and working every day.

• We are staging on emergency calls that are not really emergencies and allowing MCHD med units to make entry and advise us if we are needed. This eliminates a good portion of our possible exposures.

Parks & Recreation Department:

• Park Operations:
o Online Registration for Camp Fun Quest and the Totally Teen Program began on May 4th for residents. Online registration for non-residents will begin on May 11th. Walk-in registration begins May 18.
o Playgrounds, athletic fields, basketball courts and sand volleyball courts remain closed. All other park amenities are open
o All programs and events are suspended and/or cancelled
o Centers are closed
o All facility rentals for April and May are cancelled
o The May First Thursday Concerts were rescheduled for a later date
o Work continues on the waterpark capital project
o Staff are working on reopening strategies and plans

CVB:

• Continuing to work with event or meeting planners with events schedule March – June to reschedule and update our marketing/promotion efforts.

Public Works Department:

• All services provided by the Public Works Dept. continue.

Capital Projects & Transportation:

We are all open to the public and continue to use PPE's and safe practice. Contractors and Builders are continuing to work both in development and CIP. Plans, Plats and Permits have continued to be submitted. The fixed route ridership increased greatly last week. Commuter Bus ridership is still low but will start to increase as Houston opens back up.

• Transportation
o Fix Route – Fares now back in place
o Commuter Buses reduced from 3 to 1 bus

Economic Development:

• The Conroe Economic Development Council staff is working remotely but plan to reopen the office on Monday, May 11th in accordance with city policy and anticipate all employees working full time in the office on June 1st unless otherwise directed by authorities.

• We continue to communicate weekly with our businesses, providing resources and information to them and responding to individual requests for assistance as they come in.

• Projects that were already underway are continuing to move forward.