Woodforest National Bank Breaks Ground On New Mixed-Use Development and Bank Branch in Downtown Conroe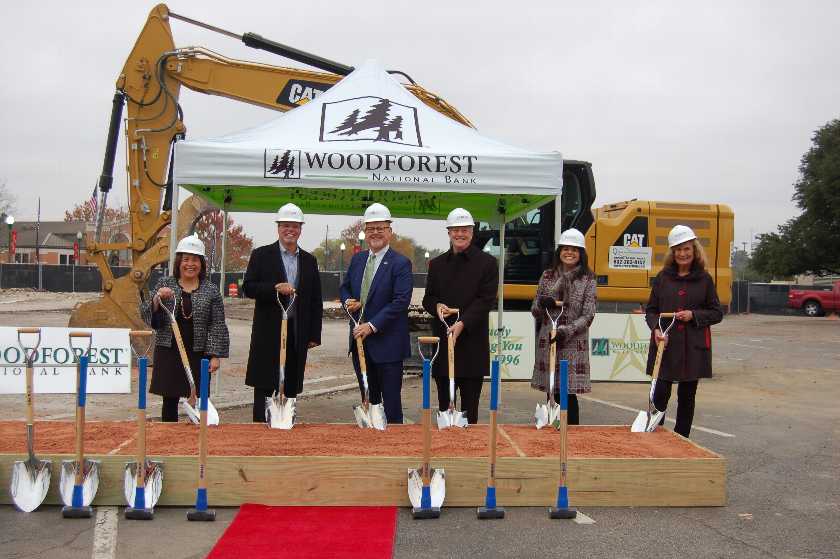 THE WOODLANDS, TX – Woodforest National Bank® ("Woodforest") held a groundbreaking ceremony on December 15, 2020, for its new mixed-use business center in historic downtown Conroe, Texas at 400 West Davis.
The prior building on the site was originally constructed in 1962 and had been home to one of Woodforest's most tenured branches which opened in 1996. The new center development is scheduled to open in the first quarter of 2022.
The official groundbreaking ceremony, held in conjunction with the Bank's annual Conroe appreciation event, was attended by several city and county leaders and officials. In attendance were Conroe City Administrator and Conroe Economic Development Council advisory board member Paul Virgadamo, Jr., Conroe Mayor Pro Tem Raymond McDonald, Woodforest National Bank board members, bank founder and Chairman, Robert E. Marling, Jr. and bank President and CEO, Jay Dreibelbis.
"As we mark Woodforest National Bank's 40th anniversary of banking, we are extremely proud and excited to break ground on the construction of a new flagship bank branch in Downtown Conroe branch, which was one of our first locations in Montgomery County and will also serve as a business center for the development of other entities in our community," said Dreibelbis.
Mayor Pro Tem McDonald, added, "Woodforest bank, Conroe's hometown bank, has been a wonderful partner for the community for many years. The new state of the art banking and business commerce center in downtown Conroe is an asset to the community and will help promote the revitalization efforts. It provides much needed high-tech class A office space for new businesses looking to come in the future. Providing this trophy asset to Conroe, the partners of Woodforest bank will be able to provide resources for small business, government, and corporate users to further help bring entrepreneurs and jobs to the Miracle city."
Conroe Mayor Jody Czajkoski, commented, "We are all so grateful and excited about the outstanding commitment Woodforest is making in downtown Conroe. This beautiful, multi-story, mixed use building is a sign of things to come for our fantastic City. We appreciate Woodforest's commitment to Conroe and look forward to seeing the transformation taking place on Woodforest's corner and throughout the City of Conroe. It's Conroe's time to shine!"
Following a groundbreaking ceremony with shovels and sledgehammers breaking up the last remaining walls and foundation of the original building, guests enjoyed festive fellowship with refreshments and the singing of holiday carols performed by local groups.
Upon completion, Woodforest National Bank will anchor the first floor of the new three-story, 32,800 square-foot building, occupying 3,800 square feet for its branch, including a full-service drive-thru facility and ATM's. In addition to the branch space, the building will be a marquis tenant location with 9,000 square feet being dedicated to retail space and 20,000 square feet to Class A office space.
For Woodforest National Bank customers' convenience during construction, the following nearby locations are available to meet banking needs: Conroe 105, located at 3101 West Davis, Loop 336, located at 1111 N West, Conroe Walmart®, located at 1407 North Loop 336 West and Tu Banco Fruitlandia located at 525 South Frazier. In addition, Woodforest has a new full-service drive-thru ATM located at 733 West Davis in the Conroe Center parking lot.