/

/

The Montgomery Area Chamber Freedom Fest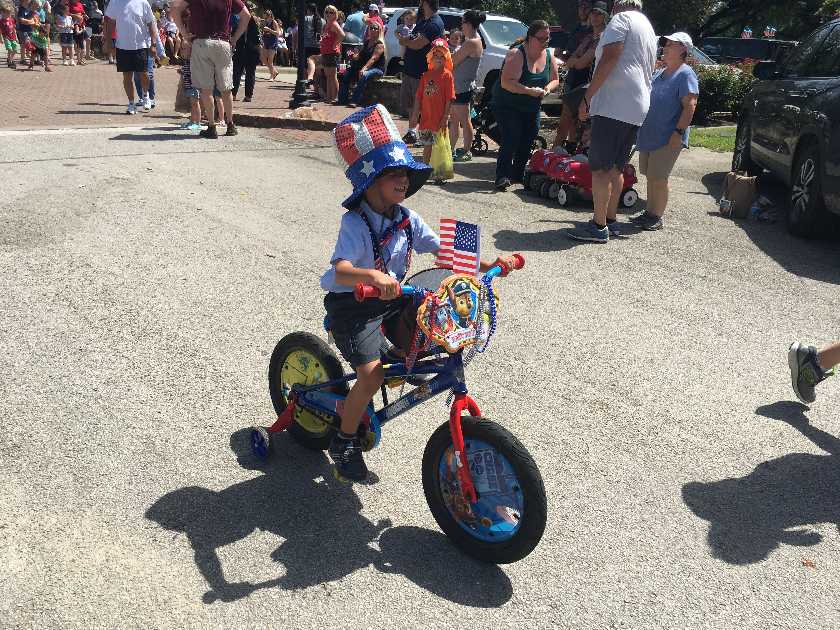 MONTGOMERY COUNTY, TX -- Everyone loves a parade! What better reason to celebrate than our Country's 245th Birthday! Saturday, July 3 from 9:00am-2:00pm will be the 6th Annual Freedom Fest in Downtown Historic Montgomery with food, festivities, kid's activities, and a lot of community engagement.
Sponsored by First Financial Bank the "Anything but a Trailer Parade" starts at 9:00am with anything you want to use to strut your stuff or display your business in a fun, patriotic way—except a trailer. Families are encouraged to join in cars, wagons, golf carts, bicycles, motorized coolers, or just walking. Everyone is welcome and there is no cost to participate! Line-up starts at 8:00am with entry judging at 8:30am by the Montgomery Lions Club in 3 categories:
• Best Overall- based on use of theme "Celebrate Freedom", creative design, and spirit
• Best Theme- "Celebrate Freedom"
• Best Spirt- most enthusiasm at time of judging
Parade will line up and commence from the back parking lot of Montgomery ISD Education Support Center located on Clepper Street, assisted by Masonic Lodge 25. All entry forms, sponsorship information, and parade route may be found at https://bit.ly/3fW2nC9. Come early to park anywhere around downtown Montgomery to get a good view of the parade. Parking is unrestricted!
In addition to the parade there will be a Junior Creative Arts Show emphasizing youth hobbies or activities seen at the Montgomery County Fair, a Crafters Market that includes vendors and direct sales businesses, and a Kids Zone. The day's activities are sponsored in part by Spirit of Texas Bank and there is room for other sponsors to make the event come to life.
The Junior Creative Arts Show is a new addition this year open to kids in two categories, up through 12 years of ag, and 13 through 19-year-old teens. During the Covid 19 lockdown many of our youth have picked up new hobbies. The Junior Creative Arts Show allows them a forum to show off their talents in baked goods, needlecraft, handicrafts, horticulture, or fine arts. Categories and entry form is listed on the website. Youth may enter more than one category and all entries will be given a price tag for public purchase. Proceeds will be split between the contest and the contestant! If you choose to take your entry home, you will mark your entry "Not for Sale". All entries will be set up from 8:00am 9:00am inside the old Community Center located at 14420 Liberty Street. The Montgomery Lions Club will judge entries from 9:00am-10:00am. After the parade, the doors will open for public viewing and purchase by cash or card. Awards will be presented at 12:30pm.
Adults may participate in the Crafters Market to sell services or products that are homemade, handmade, homegrown, or commercially purchased in a 10x10 booth. Direct sales representatives are on a first come, first paid basis with veteran vendors from the First Saturday Lone Star Market having first right of refusal. Lots of room for everybody in the Rain or Shine event! Expect to munch on hot dogs, fresh squeezed lemonade, kettle corn, and other tasty festival food.
Did we mention the Kids Zone? The Kids Zone is hosted by Bears Etc. with assistance from the National Charity League. Your kids can play in the bounce houses, get their face painted and join their family members in a larger-than-life game of Yahtzee or Connect Four! Lots of community fun celebrating at Freedom Fest.
"A huge shout out to the City of Montgomery for partnering and sponsoring this year's event. They want to see great events brought to the city while remaining safe and accessible," said Shannan Reid, Director of the Montgomery Area Chamber of Commerce. "We make a good team when we bring all our passions together. While the Chamber takes the lead on this event, we could not do this without the help of our community partners Bears, Etc, Carli's Closet, Dacus Doodles (Goldendoodle Breeders), the Montgomery Lions Club, National Charity League- Monarch Chapter, and Masonic Lodge 25 for their support. Freedom Fest is done for the community, by the community, and brings us all together in a very special way. It's a fun free family event with something for everyone!"
The Montgomery Area Chamber of Commerce has openings for sponsors, vendors, and parade entries on their website: https://bit.ly/3fW2nC9. Everyone is welcome.