/

/

Montgomery County Sheriff Arrest Suspect Believed Linked to Sexual Assault Cold Cases
Montgomery County Sheriff Arrest Suspect Believed Linked to Sexual Assault Cold Cases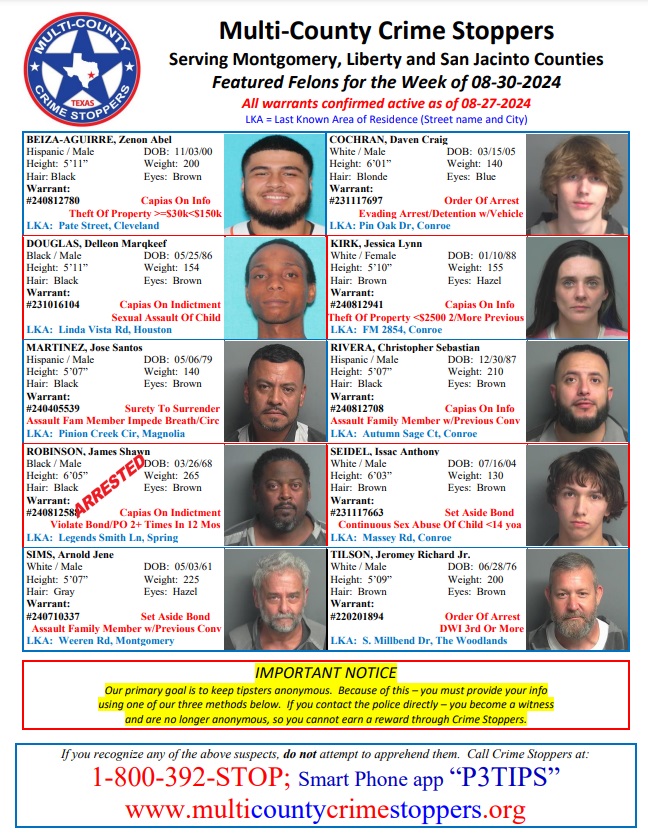 MONTGOMERY COUNTY, TX -- On Monday, November 1, 2021, at about 5:15 AM, Deputies with the Montgomery County Sheriff's Office responded to a report of an attempted Burglary of a Habitation at an apartment complex at 10200 Six Pines Drive in The Woodlands, Texas. When Deputies arrived they learned the caller captured on surveillance video a male wearing a Fielding's Restaurant shirt attempting to break into her apartment. The caller posted the video on social media to inform residents around her of the male's criminal activity.
After posting the video to social media, the caller was contacted by a victim of a 2016 Sexual Assault, which was reported to the Montgomery County Sheriff's Office. The victim informed the caller she recognized the male suspect in the video as the male who sexually assaulted her.
Due to the victim from 2016 believing this was the suspect who sexually assault her, the case was turned over to Detectives with the Montgomery County Sheriff's Office Cold Case Unit. Detectives met with management from Fielding's Restaurant who identified the male as 33-year-old Marco Antonio Rivera and also confirmed he lived in the same apartment complex as the original caller.
Detectives with the Montgomery County Sheriff's Office Cold Case Unit had already established that the suspect from the 2016 Sexual Assault case was possibly linked to 3 other sexually related offenses. One offense occurred in 2013, a second in 2016 and one in 2017.
After reviewing the surveillance video and based upon the totality of the evidence from the 2013 Sexual Assault case, Detectives were able to establish probable cause for the issuance of an Arrest Warrant for Marco Antonio Rivera, of Mexico City, Mexico. The investigations into the remaining three Sexual Assault Cases are ongoing, and there is potential for further charges against the suspect.
Marco Rivera was arrested at Fielding's Restaurant without incident and transported to the Montgomery County Jail, where his bond is set at $1 Million.
Anyone with information regarding any of these sexual assault incidents, or others that may be related, is asked to the contact the Montgomery County Sheriff's Office at 936-760-5800 or Multi-County Crime Stoppers at 800-392-STOP (7867) and refer to case #21A336923.
Attached are links to the video/player of the arraignment of Marco Rivera at the Montgomery County Jail and the Ring Doorbell camera that captured Marco Rivera.
Ring Doorbell
https://montgomerycountytexas-my.sharepoint.com/:v:/g/personal/scott_spencer_mctx_org/ESajKABVzE5Bt3BpXt3h8rsBMCd26NGcUUZDfoWug4VY_w?e=Q4G0Kf