/

/

'Tis the Season to be Jolly at Margaritaville Lake Resort, Lake Conroe | Houston
'Tis the Season to be Jolly at Margaritaville Lake Resort, Lake Conroe | Houston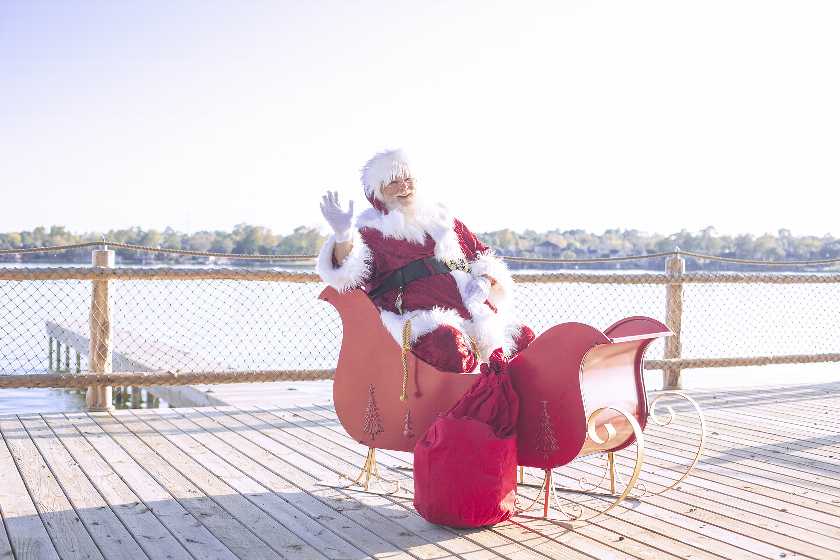 MONTGOMERY, TX -- Margaritaville Lake Resort, Lake Conroe | Houston invites you to be festive and of good cheer this holiday season. Make plans now to celebrate "the most wonderful time of the year" lakeside with a variety of tropical-inspired events and activities for all ages.
Thanksgiving Brunch – Thursday, Nov. 25 from 10 a.m. to 3 p.m.
Let Margaritaville Lake Resort do the cooking this year and enjoy Thanksgiving brunch while soaking in the tranquil views of Lake Conroe in the Del Lago Ballroom.
Adults: $64.95 +
Children: $24.95 + (children under 6 are complimentary)
Members receive a 20% discount
Live entertainment by, "Twin Connection"
Call 936-448-3224 for reservations
Refreshing fall cocktails, Blood Marys, and mimosas are on the menu for $19+
Breakfast with Santa – Three Saturdays in December (Dec. 4, 11, and 18) from 9 a.m. to 12 p.m.
Santa and Elsa of Disney's "Frozen," are traveling from the North Pole to Lake Conroe to have breakfast Margaritaville-style. Enjoy a magical and enchanting morning as you create lasting fun family memories.
Adults: $38.95+
Children: $19.95+ (6-12)
Members receive a 20% discount
Call 936-448-3244
Parents can relax with a mimosa or Blood Mary for $19+
Bring an unwrapped gift to Breakfast with Santa and receive a commemorative Margaritaville Holiday ornament. Your gift will be donated to Yes To Youth, a Montgomery County-based youth service. YES to YOUTH recommends gifts appropriate for children ages 0-17 years old.
Ring in 2022 – Friday, Dec. 31, 2021, and Saturday, Jan. 1, 2022
Enjoy a fun and festive New Year's Eve at Margaritaville Lake Resort. Toast to the New Year with live entertainment, pre fixe menus, champagne, and more. Spend the night in one of the all-suite accommodations and then feast on brunch at License to Chill and hang out in Boathouse, the resort's newest venue, to catch for your favorite bowl game.
New Year's Pre-Fixe Dinner in License To Chill: $75+
Members receive 20% discount
Limited reservations are available.
Call 936-448-3224 to make your reservation today!