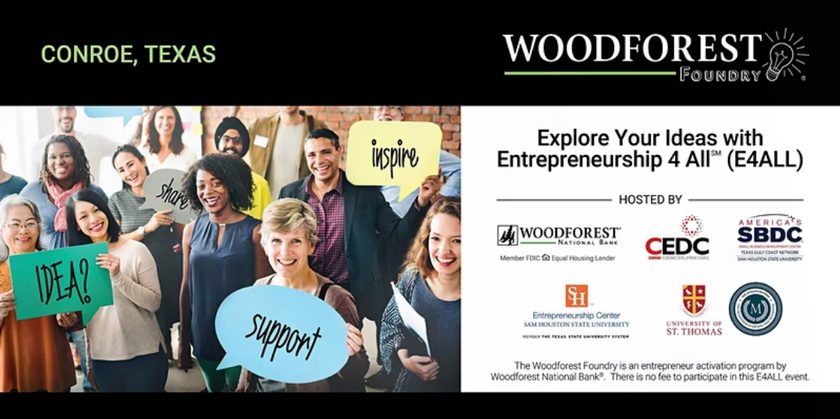 CONROE, TX -- Woodforest National Bank® (Woodforest) is launching its award-winning Woodforest Foundry? in Conroe, Texas by joining forces with the Conroe Economic Development Council (CEDC), Sam Houston State University Center for Entrepreneurship Engagement, Sam Houston State University, Small Business Development Center (SHSU SBDC), and The McNair Center for Free Enterprise and Entrepreneurship at the University of St. Thomas. Woodforest's goal is to create a strong local ecosystem of professionals who work together to help aspiring entrepreneurs test their ideas while preserving capital.
The Woodforest Foundry starts with an open community event called Entrepreneurship 4 All? (E4All?) that demystifies entrepreneurship through candid conversations with successful entrepreneurs from the community. Next, aspiring entrepreneurs complete a series of educational ideation workshops called Ideas 2 Action. Lastly, entrepreneurs test and validate their ideas in a cohort of their peers, successful small business owners, and other professionals who provide mentorship and trusted guidance.
Aspiring entrepreneurs are encouraged to join in for the E4All kick-off event, which takes place on August 25 at the downtown Conroe Woodforest National Bank location, 400 West Davis St. Registration is recommended at this link, although there is no cost to attend this event.
The E4All kick-off event will include featured speakers, where participants will hear inspiring stories and learn from these professionals about their journey to becoming successful entrepreneurs and business owners. Featured speakers include: Debra Myers, Big Cheese & Chief Excitement Officer, Enfusia and Muscle Rehab; Terry Weaver, lead actor in the television series Breaking Strongholds; and Pastor Dr. Donny R. O'Bryant, Senior Pastor of Greater Faith Humble Church.
"The spirit of entrepreneurship is strong in Conroe, and we are excited to work closely with these leading Montgomery County organizations to build a strong ecosystem to support aspiring entrepreneurs and small business owners who are looking to scale. We appreciate our community partners for their time, expertise, and insights to lift up the next generation of local leaders," said Jay Dreibelbis, President and CEO, Woodforest National Bank.
"The Conroe Economic Development Council understands the importance of the sustainability of economic growth, especially for the entrepreneurs and small businesses that are the backbone of our community," said CEDC Executive Director Danielle Scheiner. "We are thrilled to play a part in helping them succeed through our vibrant community partnerships to offer the Woodforest Foundry, a program that aids in ensuring the local entrepreneurship community can achieve the highest quality of life possible."
"The Sam Houston State University Small Business Development Center looks forward to participating in the Woodforest Foundry with Woodforest National Bank across Montgomery County. The SBDC has helped entrepreneurs start and grow their businesses for 30 years in this area and looks forward to supporting the business ideas and goals of those participating in the Woodforest Foundry," said Rhonda Ellisor, Director of the SHSU SBDC.
"We are deeply honored in working with our amazing community partners Woodforest, CEDC, Sam Houston State University Center for Entrepreneurship Engagement and SHSU SBDC to offer the Woodforest Foundry. The Foundry is a powerful program that empowers dreamers and transforms them into entrepreneurs," said Patrick Woock, Director of Entrepreneurship and Free Enterprise at University of St Thomas' McNair Center.
"We are excited to work closely with Woodforest, CEDC, SHSU SBDC, and the McNair Center at University of St. Thomas, to offer the Woodforest Foundry, an impactful program for local entrepreneurs," said Bob Milner, Director Entrepreneurship Program and Center for Entrepreneurship Engagement, Department of General Business and Finance, Sam Houston State University.
For more information about the Woodforest Foundry, please contact Doug Schaeffer, Executive Vice President, Executive Director, CRA at dschaeffer@woodforest.com.