/

/

11-11 MusicFest hosts 23 Bands in 2 days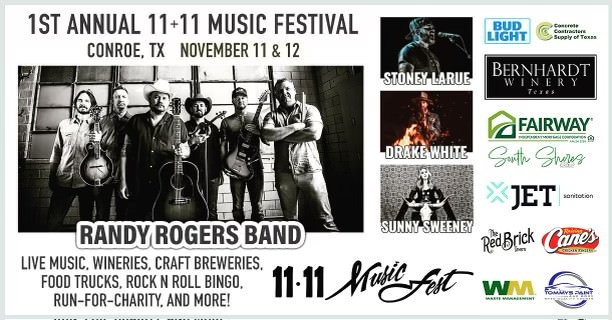 CONROE, TX -- The Red Brick Tavern is hosting a Music Festival to give back to the community. 11-11 Music Fest is a 2-day music festival beginning November 11 at 2:30pm until 11:30pm and Saturday, November 12 noon until midnight at Western Shadows, 5607 Sapp Road in Conroe.
Festival Gives Back to organizations
"We decided it would be fun to host a music festival to give back to the community," said Debbie Glenn. Debbie is the owner of The Red Brick Tavern, Glenn Insurance Agency, and performs in her band, Southern Disposition. The concept of a music festival simmered but came bubbling to the top over the last few months after she was able to confirm headliners Texas based Randy Rogers Band and Stoney LaRue, Drake White, and country music singer/songwriter Sunny Sweeney. "Then it got exciting!"
In addition to the headliners the music lineup is packed with heavy hitters performing throughout Texas including the Toney Ramey Band, Sheila Marshall, Amber Digby, the Buck Yeager Band, Tyler McCollum, Scotty Alexander, and Southern Disposition.
Giving back is the core of the festival and local organizations benefitting from the festival are Boots for Troops, Love Heals Youth, Raising a Hand for Rett, Country Music Association of Texas, and ProStart Texas Restaurant Association. Raising a Hand for Rett, editions 1-2 will both available for sale as well as information about each of the organizations.
Several sponsors made the event possible: Waste Management, Western Shadows, The Red Brick Tavern, Jet Waste Services, Bleyl Engineering, Bernhardt Winery, Europa Shares, Silver Eagle Distribution, Texas Restaurant Foundation, Tommy's Pain and Body, Fairway Mortgage South Shores Group, Concrete Contractors Supply of Texas, Taylorized PR, and Texas Music Pickers.
Both Friday and Saturday will feature live music, a Charity Fun Run on Saturday morning from B-52 Brewery benefitting Boots for Troops, food trucks, wineries, breweries, vendors, a cake-off competition, and a silent auction. Interested vendors can still apply to participate online. Attendees will be given one- or two-day wristbands to wear during the festival at entry. Tickets are available for online purchase at www.11-11musicfest.com.

Come expecting to stay for the day. Lawn chairs and blankets are acceptable to bring in after inspection at entry. The event is rain or shine and tickets are not refundable or exchangeable.

For additional information go online to 11-11 MusicFest website, www.11-11Muiscfest.com, follow their Facebook page: www.facebook.com/1111MusicFest, or call (936) 247-1111. Email the festival at 1111musicfest@gmail.com