/

/

Operation BBQ Relief is seeking support to feed tornado-ravaged areas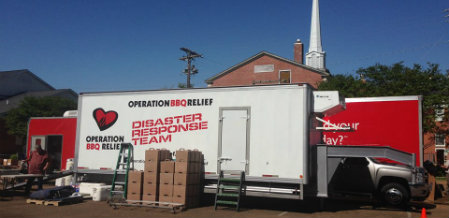 MONTGOMERY COUNTY, Texas -- Almost as soon as the tornados touched down, there were boots on the ground. The advanced severe weather warning by the National Weather Service last week enabled relief agencies to prepare in advance to roll as soon as the storms passed.
In the wake of the the storms entire neighborhoods were leveled in the Arkansas towns of Mayflower and Vilonia, Quapaw, Oklahoma, Louisville and Tupelo, Mississippi, and also in Athens, Alabama, and Baxter Springs, Kansas.
Among the unsung heroes rallying to their relief...Operation BBQ Relief's Disaster Response Team with their custom-designed truck donated by Heat & Glo® Fireplaces. The truck, which includes a 14-foot box fully equipped with thermostatically-controlled ovens and refrigerators, allows Operation BBQ Relief to better serve more individuals in more locations, after disasters strike.
. Operation BBQ Relief is a 501(c)3 non-profit organization founded in May 2011, when competition barbecue teams from eight states, including Texas, banded together to feed tornado-stricken residents in Joplin, Missouri, and then Moore, Oklahoma. Prior to the recent tornado outbreak, Operation BBQ Relief had provided support for 18 natural disasters in 16 states, serving meals to more than 500,000 people. The familiar smell and taste of a traditional American barbecue can restore feelings of normalcy and provide emotional relief in the midst of tragedy. Operation BBQ Relief has served up meals and extended friendship to communities across the country adversely affected by natural disasters like tornadoes, hurricanes and wildfires.
"Meat for the masses doesn't come free," said Lang Chapman, a frequent grand champion BBQ pitmaster from Willis, Texas, in Montgomery, County. "If I could get away from work to cook, I would do that too. That is why I donated. Please help out any way you can."
In one day, Operation BBQ Relief served 6000 meals: Mayflower, AR, lunch and dinner, 3900 meals; Louisville MS, lunch and dinner, 1700 meals; Tupelo MS, 400 dinner meals. To contribute to the effort to feed those devastated in these areas, donate through the link provided.
There are other ways to help too. You can donate online directly to the Red Cross Disaster Relief fund, or by calling 1-800-RED-CROSS (1-800-733-2767). You can also make a $10 donation by mobile phone when you text REDCROSS to 90999.
Any organization preparing a disaster relief effort and that needs to reach the public for donations, can notify Conroe Today, or its affiliate, Woodlands Online, through our general press release email address: bayoucitynews@gmail.com. Please include donation sites, a list of items being collected, and any essential contact information.