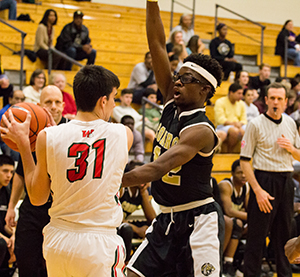 THE WOODLANDS, Texas - A front court duo of Cameron Burkett and A.J. Bullard was too much for Conroe to overcome, as the Highlanders put the brakes on a two-game losing streak with a 58-46 district win over the Conroe Tigers at home on Tuesday night.
Cameron Burkett and A.J. Bullard combine for 32 points to lead TWHS
"Throughout the game I thought we were really good. Defensively I thought we did a great job rebounding, they (Conroe) are a great offensive rebounding team. Overall I felt we did what we needed to do," said Highlanders Head Coach Dale Reed.
Click here to watch Game Recap presented by Gaunt, Earl, & Binney
The Woodlands (17-9, 4-3) came out aggressive with open three-point field goals by A.J. Bullard and Cameron Burkett, and a fast break transition offense by forcing early Conroe turnovers to grab a commanding 17-4 lead with just 1:51 left in the first quarter. Burkett finished with a game-high 18 points, while A.J. Bullard finished with 14 points.
Conroe (14-13, 1-6) went on a 14-5 run early in the second quarter to cut into the deficit and when Tiger Senior Delvin Palmer's lay-up gave the Tigers a 27-26 lead with 2:00 left in the second quarter. The Highlanders would regroup and finish the first half on a 5-0 run for a 31-27 lead at the half.
The Woodlands broke free in the third quarter with a 6-0 run after Sophomore guard James Primavera's lay-up game the Highlanders a double-digit lead again at 44-34 with 2:51 left in the third quarter. The Highlanders continued to pressure the Tigers, turning steals into fast break opportunities for lay-ups by Bullard and Burkett with nice set-ups by Freshman Romello Wilbert.
The Woodlands will look to get back on a winning streak when the Highlanders hit the road to face No. 1 Atascocita on Friday night at 7pm.