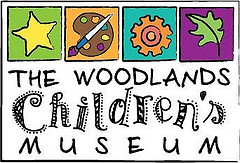 New Exhibits Coordinator at The Woodlands Children's Museum
The Woodlands Children's Museum
Gabrielle Katz's lifelong love of museums on display
The Woodlands Children's Museum recently welcomed a new exhibits coordinator -- Gabrielle Katz -- to its team.
Katz has known that she wanted work in museums for as long as she can remember.
"I always loved museums growing up, and I knew that's where I wanted to be," she said.
As a student, she interned at the Livingston County Historical Society in Geneseo, NY and at the Rochester Museum and Science Center in her hometown, Rochester, NY.
Katz earned her bachelor's degree in anthropology with an art history minor at the State University of New York at Geneseo in 1994 and then continued with her studies at George Washington University, where she obtained her master's in anthropology with a museum studies concentration.
While she was studying in D.C., Katz worked at the Smithsonian Institute's National Museum of Natural History as a curatorial assistant.
Katz moved to Texas when her husband enrolled in graduate school at Texas A&M University. While living in Bryan/College Station, she served as museum manager for the Brazos Valley Museum of Natural History.
In 1997, the couple moved to Houston and Katz took a position at the Houston Museum of Natural Science, where she stayed for four years before serving as project manager of exhibits and programs at the Children's Museum of Houston.
Katz took a few years off from work after the birth of her son Benjamin. "I spent a lot of time going on adventures with him," she said. "Then he went to school and I started thinking about going back to work."
Since she now lives in The Woodlands, she thought volunteering at The Woodlands Children's Museum would be a great start.
Instead, the museum made her an offer she couldn't refuse – a job as exhibits coordinator.
Katz's current goal is to give the museum's exhibits a facelift and to highlight the educational aspects of each area.
"I started by spending a lot of time watching what the kids were doing," she said. "I began brainstorming little things that we could do, as well as long term ideas."
Katz already feels at home in her new position. "Everyone here loves kids," she said. "They really put their heart into their work. It's a wonderful place to be."
To learn more about The Woodlands Children's Museum, its hours of operation, membership opportunities and ways to support the nonprofit, visit www.woodlandschildrensmuseum.org or call 281-465-0955. The museum is always looking for exhibition underwriters and sponsors for special events.
About The Woodlands Children's Museum
The Woodlands Children's Museum is a 501(c)3 nonprofit organization dedicated to educating, empowering and exciting children and their families in lifelong learning and discovery. The Museum also provides multi-ethnic and multicultural experiences encouraging children to celebrate and embrace cultural and global differences and strengthen common bonds. Year-round, hands-on activities – from reading and art to science and magic –are all intended to make a positive difference in the life of a child. The museum also offers free admission to military personnel and their families and is a proud member of the Blue Star Museums program. www.woodlandschildrensmuseum.org.