/

/

The Feast of Artisans Market will be at Southern Star Brewery Friday, April 17
The Feast of Artisans Market will be at Southern Star Brewery Friday, April 17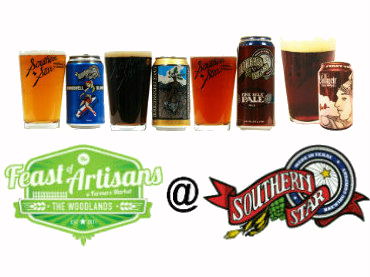 CONROE, Texas -- The Feast of Artisans Market will be at Southern Star Brewery Friday, April 17, 5-9 pm, featuring locally produced products, vendors,live music, a food truck, and some of the best craft beer in the south.
Fresh, local produce and unique products
Delicious cured and smoked pork chops will be available from Dumb Dog Sausage Co., along with her other delectable charcuterie, pickles, and sauce offerings.
Other vendors will include:
Eco-Topia
Dumb Dog Sausage Co. Nisha's Quick - N - Ezee Indian Food
Allida's Bare Bones and Big Rocks
Griffin Meadery
Stain & Stone
Bits and Bobs
Leadbelly Elevator
Food Truck:
POCKet to me
Music:
John Alton & Friends
"We have a versatile list of local vendors with a wide variety of products," said Lorraine Richardson, the market's promoter. "There's a chance of rain, but it could change by Friday. Rain or shine, we'll be there."
The market will be located at Southern Star Brewery this Friday, located at 1207 N FM 3083 E, Conroe, Texas (77303).
"Come out and shop local producers and artisans. Join us for a beer, grab some grub, and enjoy the live music," added Richardson. "Please share this with your family and friends, and come shop local at the Feast of Artisans this Friday."
#ShopLocal #ShopFresh