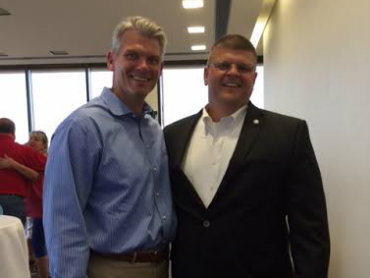 CONROE, Texas - In the first, of what they promise will be many meetings of the minds, occurred Wednesday night at the Conroe/Lake Conroe Chamber of Commerce Accreditation Party, when Conroe Chamber President and CEO, Scott Harper, introduced J.J. Hollie, the new Woodlands Area Chamber President and CEO, to the crowd.
It's this rapport that will serve Montgomery County well in the years to come, as the two will be currently representing communities of 120,000 from The Woodlands, and 70,000 from Conroe. Montgomery County is ranked as the 6th fastest growing county in Texas with its population more than doubling in the last twenty years. With a growth rate of between five and six percent annually, it's projected to top one million in the next twenty-five years.
"Scott's been my mentor. He was the first one I called, after I applied for the position," said Hollie. "He was a great example of how to run a good chamber. He provided good advice. We became good friends. We're ready to work together."
And a great example he has set. The 3-Star Accreditation being celebrated, is a first in the Chamber's 81-year history. Formed in 1934, the Chamber has grown to over 1,000 members, with a significant spurt since Harper took over as President and CEO. Partly due to the recent growth in the Conroe area, but primarily due to the concerted effort on Harper's part to set high standards and achieve them. The accreditation was one of those goals Harper set.
"I didn't even know about this accreditation process until I went to my training in Georgia and I noticed that someone had a sticker on a badge that I didn't have. Only 207 out of more than 7,000 chambers of commerce in the United States have achieved this accreditation...three percent. The level of accreditation is based on how hard you're willing to work for it, and the level of transparency you're willing to provide stated Harper.
The 3 Star accreditation status requires a stringent adherence to procedures, a Total Quality Management concept, and long-range developmental programs.
"A lot of people question why I was hired; I didn't have the Chamber experience. In reality, you need to have the relationships, and sometimes you just need a different and fresher set of eyes, a new perspective; not...this is the way it's always been done." said Harper.
Given the growth in the Conroe chamber membership and the 3-Star Accreditation, it's not likely his leadership comes into question anymore. Harper indicated that the Conroe Chamber will continue to strive for a higher standard of quality and services.
"It's a work in process," said Harper.
On hand to present a resolution commending the Conroe Chamber, President & CEO Harper, and his staff, on a job well done, was State Representative, Will Metcalf,(R), House District 16.
To read more about the 3-Star Accreditation Program read Conroe Chamber awarded 3 Star Accreditation by U.S. Chamber of Commerce.
#3Stars #DynamicDuo