/

/

Consolidated Communications grows business through relationships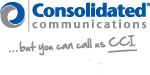 MONTGOMERY COUNTY, Texas - It's a wonderful time of the year. A time for remembering good friends, colleagues, and customers, and expressing appreciation for their relationship. And then there are corporations that have made this an integral part of their culture. They don't wait till the end of the year to show their customers and suppliers how much they're valued. They work at it every day of the year.
Customer service is key to corporation's continued growth.
Consolidated Communications, Inc.,(CCI) a leading communications provider with an 11-state operation, has been providing leading edge technology to its customer base for over a century. Originally a family-owned, entrepreneurial business, Consolidated Communications has held steadfast to its roots of providing communications solutions and local customer support since 1894; growing the company through innovation and diversification to meet customers' growing needs.
Vice President of Consumer Products, Rob Koester, insists that customer service is paramount, and as much a part of their core business as the varied services they provide.
"Whether it's the large enterprise customer who relies on us to ensure that their multi-state, business critical infrastructure remains operational or a senior citizen who relies on broadband data connection to facetime with grandchildren, we strive to provide complete customer satisfaction," said Koester.
Consolidated Communications services are delivered over one of the most robust all IP, fiber optic networks that spans 11 states and traverses over 13,000 fiber route miles. CCI's key customer groups include other carriers, businesses of all sizes from enterprise to small businesses, and consumers. In total, the company serves well over one million customer connections.
CCI's commercial solutions include data and Internet connectivity, voice, managed and hosted data center operations, cloud computing and variety of IT services. They serve the continuum of businesses from large government agencies and critical infrastructure like hospitals and emergency services to small-to-medium sized businesses of all types.
The consumer (residential) portfolio is comprised of Digital TV, High-Speed Internet, Phone, and Home Automation and Security Services. CCI leverages its carrier grade fiber optic network to deliver cutting edge services. In June of this year CCI became the first provider in the Gulf Coast region to offer 1 gigabit of residential Internet service; a service that is 10 times faster than the highest speed offered by any provider in the region.
(See related article at Consolidated Communications to launch 1 gigabit residential Internet service.
The eleven states Consolidated Communications provides for, in addition to Texas, are California, Illinois, Iowa, Kansas, Minnesota, Missouri, Pennsylvania, Wisconsin, and North and South Dakota. All eleven states are connected to CCI's redundant, fiber-optic network.
"At Consolidated Communications, we are dedicated to listening to our customers and meeting their expectations with flexible and reliable services and exceptional customer care. On behalf of our company and our team of 1,900 experienced employees we wish the community a happy and safe holiday season," said Koester.
Learn more about Consolidated Communications, Inc. on their website.
Note: In 2014, Consolidated Communications, Inc. employees volunteered more than 54,000 hours of their time to the community; giving totaled more than $1.5 million.
Consolidated Communications Stories: (2)