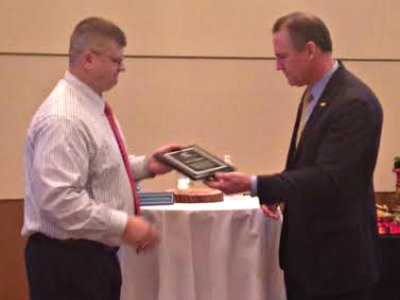 CONROE, Texas - The Conroe/Lake Conroe Chamber of Commerce bid farewell to its outgoing president, Scott Harper, with a going away party Thursday afternoon. Chamber members and community leaders dropped by to wish Scott well in his new position as the Senior Major Gifts Director within the Association Office of the YMCA.
Harper accepts position of YMCA Senior Major Gifts Director
The chamber has been great for me personally and professionally and really positioned me for this new job," posted Harper on his Facebook page. He added that he will be focusing on capital projects for the Y in Montgomery County.
Chairman of the Board, Dr. Don Stockton, CISD Superintendent, presided over the event and jokingly chastised Harper for quitting this and a previous position where Stockton served as Chairman of the Board.
"This is the second time I've had to buy Scott a going-away present," said Dr. Stockton.
Under Harper's direction the Chamber membership the Chamber has grown to over 1,000 members, with a significant spurt since Harper took over as President and CEO. Most significantly is the 3-Star accreditation status achieved by the Chamber this year, a goal that Harper set and achieved in his short tenure. The accreditation requires stringent adherence to procedures, a Total Quality Management concept, and long-range developmental programs. Only 207 out of more than 7,000 chambers of commerce in the United States have achieved this accreditation...three percent.
The Chamber's mission is to strengthen the economic environment and quality of life in Montgomery County. The Chamber's vision is to be known as a dynamic organization that generates awareness, creates partnerships, and provides leadership for progressive development and growth while enhancing the quality of life in Montgomery County.
The Conroe/Lake Conroe Chamber of Commerce is located at 505 W. Davis in Conroe, Texas (77301). For more information about the Chamber visit their website at www.conroe.org or call 936-756-6644.