/

/

UPDATE: Last day for collection drive to aid north Texas Dec 30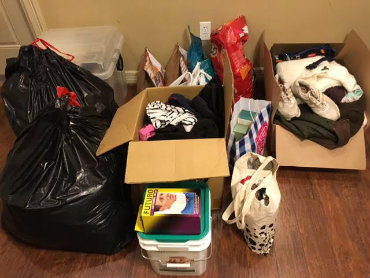 UPDATE:
The last day for collection drive to aid north Texas is Wednesday, December 30. See the original article for the location in Montgomery County, and the list of essential items provided by the Association of Texas EMS Professionals...
ORIGINAL ARTICLE:
NORTH TEXAS - The Association of Texas EMS Professionals has issued a PSA (Public Service Announcement) for non-perishable food, beverages, hygiene products, and search and rescue supplies, to aid first responders and tornado victims in Garland, Texas, The northeast suburb of Dallas was devastated by an EF-4 tornado with winds up to 200 mph, Saturday night, December 26. An EF-3 tornado with 165-mph winds touched down in Rowlett, east of Garland.
The tornado outbreak was the deadliest system to hit the Dallas area since 1957, according to the National Weather Service on Twitter. Nine tornadoes were confirmed. Eleven fatalities have been reported so far.
"The EMS agencies are running out of EMS supplies so we are asking for services in the Houston area to help by sending supplies to those folks up there to help them out since they cannot get supplies from the shippers quick enough to serve their communities in the wake of the events," wrote Jill Dodson, Association of Texas EMS Professionals board member.
Initially the association was asking for support from other EMS organizations, Fire and Police Departments, but the community may contribute as well. Among the basic items requested are: The basic needs for responders would be non-perishable food items, Gatorade, drinks, cups, toiletries, flashlights, traffic vests, batteries, gloves (for debris removal), socks, and toilet paper. With snow now falling in the area, blankets will also be essential. (See below for a detailed list.*)
"The needs for the families would be everything and anything," added Dodson.
A collection site has been set up in The Woodlands at 26519 I-45N (west side)at The Woodlands Eco Realty office.
A second location is at 6715 N. Sam Houston Parkway on I-45N, at the Avis Rental location, who is also supplying a collection truck.
Trucks will be departing as soon as they are full, so donations need to be dropped off as soon as possible.
The Association of Texas EMS Professionals is a 501(c)6 organization in the state of Texas for EMS professionals. A GoFund Me account has been set up for monetary donations. Among those who lost everything, included two EMS personnel and their families, and one police officer and family.
* Essential items:
Work gloves
Wipes- (baby wipes)
Personal-sized shampoos and conditioners, deodorants
Toothbrushes and toothpaste
Underwear
Socks
Foot powder
Antacids
Ibuprofen
Snacks
Energy drinks
Hygiene Items
Baby items
Medical supplies
IV fluids and administration sets
Oxygen delivery equipment
First aid supplies- bandaging, slings, tape, sterile water
Household items
Woodlands Online to update if additional information is provided.