/

/

Conroe Go Texan Parade Saturday, February 20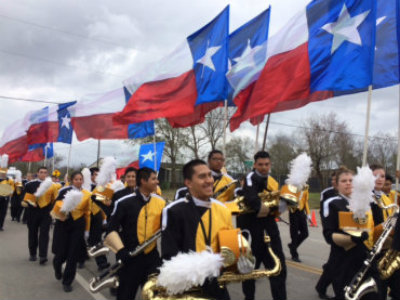 UPDATE:
Ideal weather could see record attendance.
CONROE, Texas - The 51st Annual Go Texan Parade in historic downtown Conroe, Saturday, February 20, will kick off at 1:00 p.m., and lasts until 3:00 p.m.
The weather will be perfect for the rodeo...partly cloudy with a high of 80 degrees, so spectators won't need winter clothing. A record turnout is expected with the pleasant weather being forecasted.
Parade participants are urged to read the original article for parade rules.
#GoTexan #HistoricDowntownConroe
ORIGINAL ARTICLE:
CONROE, Texas - Texans are saddling up for the 51st Annual Go Texan Parade in historic downtown Conroe, Saturday, February 20. Hosted by the Houston Livestock Show & Rodeo Houston Metro Go Texan Committee - Conroe / Willis / The Woodlands, and the Conroe/Lake Conroe Chamber of Commerce, they're promising as much excitement as last year's 50th Anniversary Parade that featured the Budweiser Clydesdales.
This year's theme will be "School Bells and Rodeo Trails." The entry fees are as follows:
Commercial $50 (one additional vehicle - $10)
Political $100 (One vehicle only. Fee waived for elected officials currently not running for office).
Nonprofit & Youth- NO FEE
Entry deadline was February 15, 2016, 4:00 p.m. No entries will be accepted after this date. Checks must be made out to HLSR (not the Chamber). Click Here to download the parade entry form and rules. Due to liability concerns, entrants must provide their own vehicles. The Go Texan Committee will not be able to furnish cars, trucks, etc.
The following rules will be strictly enforced:
a) Vehicles should be clean and in good running condition.
b) Nothing can be thrown from the vehicles and floats during the parade. Violators will be barred from future Go Texan parades.
c) Alcohol consumption is absolutely prohibited. Any drinking prior to, or during the parade, will result in the entrant being pulled out of the parade.
Return entry form to:
Conroe/Lake Conroe Chamber of Commerce
PO Box 234
Conroe, TX 77305
FAX: 936-756-6462 or email to: chamber@conroe.org
For more information call: 936-756-6644
Prior to the parade, the Go Texan Stampede 5K Run/Walk will take place at Heritage Place Park located at 500 Collins Street. Registration is $30 and due by February 15. Checks must be made out to HLSR (not the Chamber). Packets may be picked up at the Chamber February 16 - 19, from 8am - 5pm. To register, visit Registration or click