SuperShuttle announces new residential non-stop shuttle service to and from Houston airports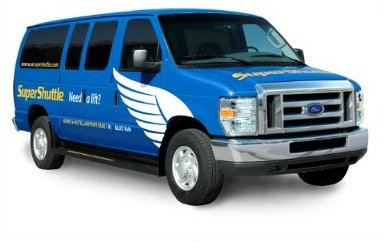 DALLAS, Texas - SuperShuttle is now offering residential customers in Dallas and Houston a new non-stop shuttle option to and from the airports. The new private non-stop option is available for parties of 1-3 passengers with fares as low as $39. SuperShuttle has long offered non-stop Shuttle service for group travel, but now individual travelers can order a non-stop shuttle at an economical price.
SuperShuttle non-stop offerings include:
1-3 passengers non-stop--as low as $39. This service is ideal for those traveling individually or in a small group, but prefer a non-stop shuttle at an affordable price. The rate does not change whether you have one, two or three travelers.
4 plus passengers non-stop--as low as $74. Larger group travel is easy with the non-stop shuttles, some holding up to 10 passengers in select cities.
Customers can also earn airline points and miles on participating carriers including; Delta Air Lines SkyMiles®, Frontier Airlines EarlyReturns®, Southwest Airlines Rapid Rewards, United Airlines MileagePlus® and American Airlines AAdvantage® when they book online or via our new mobile app as a registered user.
SuperShuttle International, based in Phoenix, is a division of Transdev On Demand. SuperShuttle serves 40 airports, carrying more than eight million passengers a year. SuperShuttle also provides ExecuCar (sedan service) at all airports served by SuperShuttle including some of the largest in the country Los Angeles, New York, Dallas/Ft. Worth, Washington, D.C. and San Francisco. SuperShuttle is also available in Paris, France, Cancun and Los Cabos, Mexico. ExecuCar is available in 70 Airports.
Transdev On Demand, Inc. a division of Transdev based in Phoenix, includes SuperShuttle International, ExecuCar and Yellow Cab and other taxi brands nationwide. Transdev On Demand, Inc. serves over 80 airports with its multiple service offerings in the on demand service space. It boasts some of the most fuel-efficient fleets utilizing propane and compressed natural gas, as well as partnerships with many leading airlines and travel wholesalers.