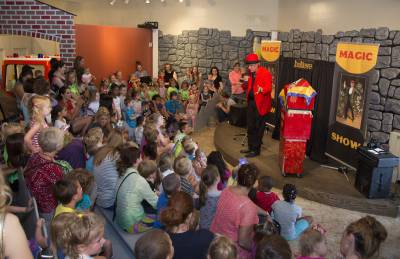 THE WOODLANDS, Texas – Step right up for a show of illusion, wonder and magic at The Woodlands Children's Museum. Local magicians will take the stage for Magic Day. 10 a.m. to 5 p.m. on Friday, June 17.
Local magicians will delight and amaze on Friday, June 17
The Woodlands Children's Museum, 4775 W. Panther Creek Drive, Suite 280. COST – Included in daily admission of $6 per person 1 year and older. There is no charge for children under 1. Recommended for ages 7 and under.
To learn more about The Woodlands Children's Museum, its hours of operation and ways to support the nonprofit, visit woodlandschildrensmuseum.org or call 281-465-0955. The museum is always looking for sponsors or partners for events. Follow the museum's Twitter handle @thewoodlandscm.
About The Woodlands Children's Museum
The Woodlands Children's Museum is a 501(c)3 nonprofit organization dedicated to educating, empowering and exciting children and their families in lifelong learning and discovery. The Museum also provides multi-ethnic and multicultural experiences encouraging children to celebrate and embrace cultural and global differences and strengthen common bonds. Year-round, hands-on activities – from reading and art to science and magic – are all intended to make a positive difference in the life of a child. The museum also offers free admission to military personnel and their families and is a proud member of the Blue Star Museums Program. woodlandschildrensmuseum.org.