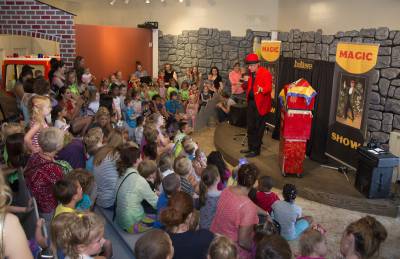 THE WOODLANDS, TX – Step right up for a show of illusion, wonder and magic at The Woodlands Children's Museum.
Delight in shows performed by local magicians Friday, June 17
Local magicians will take the stage for Magic Day from 10 a.m. to 5 p.m. on Friday, June 17.
Muffie the Clown will perform at 10:30, 11:15 and 11:45 a.m. – and there will be two Storybook Theatre performances, at 11 a.m. and 2 p.m., as well as Silly Songs with Nan at 12:15 p.m.
Professor Hughdini, a local magician who has been performing magical entertainment for more than 30 years, presents shows at 12:35, 1 and 1:30 p.m.
There are also three Magic of David performances planned for 2:45, 3:15 and 3:45 p.m.
"Magic is such an essential part of childhood," Angela Colton, the museum's executive director, said. "This is a day dedicated to celebrating magic. We also work yearlong to create an exciting and fun learning environment for children and to make the museum a place to inspire wonder."
The Woodlands Children's Museum is located at 4775 W. Panther Creek Drive, Suite 280. The cost to attend Magic Day is included in the daily admission of $6 per person 1 year and older. There is no charge for children under 1. The museum is recommended for ages 7 and under.
To learn more about The Woodlands Children's Museum, its hours of operation and ways to support the nonprofit, visit woodlandschildrensmuseum.org or call 281-465-0955. The museum is always looking for sponsors or partners for events. Follow the museum's Twitter handle @thewoodlandscm.
About The Woodlands Children's Museum
The Woodlands Children's Museum is a 501(c)3 nonprofit organization dedicated to educating, empowering and exciting children and their families in lifelong learning and discovery. The Museum also provides multi-ethnic and multicultural experiences encouraging children to celebrate and embrace cultural and global differences and strengthen common bonds. Year-round, hands-on activities – from reading and art to science and magic – are all intended to make a positive difference in the life of a child. The museum also offers free admission to military personnel and their families and is a proud member of the Blue Star Museums Program. woodlandschildrensmuseum.org.