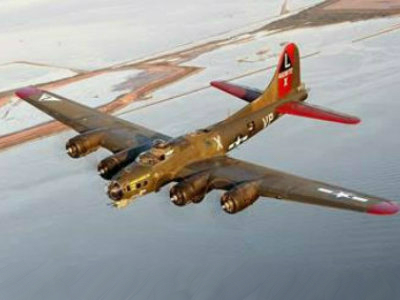 SPRING, Texas - Seventy-two years ago this week, the largest invasion the modern world had ever seen moved onto the continent of Europe, signaling the beginning of the end of WWII. The skies darkened under the massive air armada as the allied forces fought their way ashore on the beaches of Normandy on June 6, 1944.
On Saturday June 18, four WWII-era aircraft will be roaring over the Houston area while the Commemorative Air Force (CAF) honors five veteran aviators of WWII. The event will take place at Gill Aviation flight services located at Hooks Airport in Spring, Texas. Those honored include R.B. Kelley of Montgomery, Texas, who flew 35 combat missions over Germany as a ball turret gunner; William "Bill" Toombs, Sr. of Little Rock, Arkansas, who as a flight engineer flew 28 combat missions including D-Day; Perry Kerr of Three Rivers, Texas, who flew 11 missions as a nose gunner; Dale Bottoms from Beaumont, Texas, also a D-Day veteran and flight engineer with 30 combat missions; and Col. Jesse Jacobs, from Las Cruces, New Mexico, an aviation combat veteran from WWII and Korea who also had a career as a test pilot. All five veterans are recipients of multiple citations for their service, and will be meeting the public on Saturday morning, beginning at 10:00 a.m.
Featured on the airport ramp on both Saturday June 18 and Sunday June 19 will be the CAF B-17 Texas Raiders – the first B-17 Flying Fortress to be restored solely for the purpose of education and use as a flying museum. It is one of the most accurately restored B-17s, bristling with machine guns and featuring period-specific equipment. She will be joined by three other vintage warbirds: the T-6 Texan Ace in the Hole, an aircraft that served in WWII, Korea and Vietnam; the BT-13 Valiant, in which thousands of Texas airman trained, and the popular open-cockpit N3N bi-plane, nick-named Yellow Peril.
A cockpit tour of all the aircraft is $10 for adults, $5 for children or $20 for a family of up to five members. WWII veterans and active duty with military ID may tour at no charge. Attendees who want the ultimate Living History Flight experience can make a reservation now for one of the limited number of 25-minute flights on the aircraft. Flights start at $195 for the trainers and at $475 for the B-17 Flying Fortress.
The public is invited to come out to Gill Aviation at Hooks Airport, 20803 Stuebner Airline Drive, in Spring, Texas. Those who wish to fly are encouraged to call 1-855-FLY-A-B17 (1-855-359-2217) or reserve online at www.B17TexasRaiders.org
See related link:
CAF B-17 Texas Raiders video.
#B17 #TexasRaiders #FlyingFortress #B17TexasRaiders #CAF