/

/

Willis HS grad training to serve on nuclear-powered submarines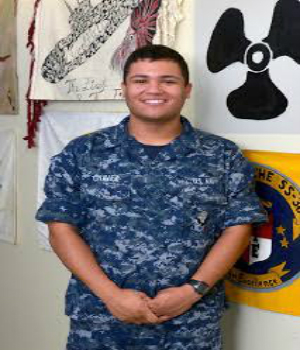 GROTON, Conn. - A 2011 Willis High School graduate and Willis, Texas, native is training in the U.S. Navy to serve aboard nuclear-powered, submarines throughout the fleet.

Seaman Recruit Brian Chavez is learning the systems and electronics of submarines.



Seaman Recruit Brian Chavez is under instruction at the Basic Enlisted Submarine School, which teaches the basic theory behind the construction and operation of nuclear powered submarines including ships systems, organization and safety. Currently the Los Angeles class fast-attack submarine is used as the model for the school curriculum, but the concepts taught are applicable to all classes of submarines.

Basic Enlisted Submarine School prepares sailors to pursue submarine qualifications upon initial assignment to an operational submarine, as well as performing critical screening of future submariners in the area of adaptability and reliability.

"I am learning how to work with different people," said Chavez. "The sub community is a tight environment and you have to get along with everyone since the spaces are so confined. You have to find your own space."

A key element of the Navy's mission is tied to the fact that America is a maritime nation, according to Navy officials, and that the nation's prosperity is tied to the ability to operate freely on the world's oceans. More than 70 percent of the Earth's surface is covered by water; 80 percent of the world's population lives close to a coast; and 90 percent of all global trade by volume travels by sea.

Attack submarines, like those stationed in the Groton area, are designed to hunt down and destroy enemy submarines and surface ships; strike targets ashore with cruise missiles; carry and deliver Navy SEALs; carry out intelligence, surveillance, and reconnaissance missions; and engage in mine warfare. Their primary tactical advantage is stealth, operating undetected under the sea for long periods of time.

"The submarine force is one of the most elite communities in the U.S. Navy," said Capt. Aaron M. Thieme, Commanding Officer, Naval Submarine School. "The most talented sailors in the U.S. Navy learn to be the world's best submariners at the Naval Submarine School."

According to Navy officials, because of the demanding environment aboard submarines, personnel are accepted only after rigorous testing and observation.

The submarine community is an all-volunteer force, which has some of the most highly trained and skilled people in the Navy.

"I am looking forward to the life experiences of being in the fleet and learning the systems and electronics of submarines," said Chavez.

Preparing for the high operational tempo and unique challenges of the submarine force builds strong fellowship and a strong sense of mission to the students of the submarine school.

"Serving in the Navy is doing something for other people," added Chavez. "It is a powerful change and my way of giving back. You learn so much and it consolidates America into one team."