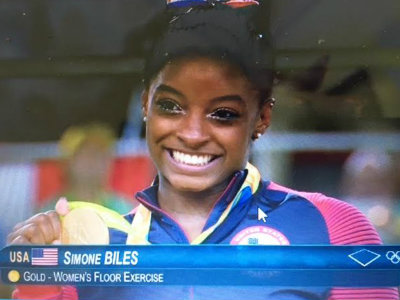 RIO DE JANEIRO, Brazil - Simone Biles from Spring Texas, ended her first Olympics competition on a winning note, adding a fourth gold medal to her treasure trove by winning the final event, the floor routine. Her winning score of 15.966 topped teammate Alexandra "Aly" Raisman who scored a 15.500, taking the Silver medal.
Biles won the All Around title for one of the gold medals, and another for the highest team score. A third gold was awarded for the vault, and she won a fifth medal, a bronze, for the balance beam. Her beam routine would have garnered another gold medal but a balance issue required that she grab the beam to keep from falling off, but it counted as a fall and put her in third place.
At just nineteen years of age, and only competing on the international scene for three years, it's likely that she'll be at the 2020 Tokyo Olympics with even more difficult routines and more years of experience.
The senior member of the team and team captain, "Aly" Raisman, takes away a gold for the team competition, and two silvers...second in the All Around in addition to the floor routine. In the 2012 London Olympics, Raisman received gold for the team, gold for the floor routine, and a bronze for the balance beam.
The other three team members: Gabby Douglas, Laurie Hernandez, and Madison Kocian, each take home gold for the team competition, Hernandez and Kocian each won a silver medal. Hernandez for the balance beam, and Kocian for the uneven parallel bars.
The team referred to themselves as the "Final Five" in honor of Marta Karolyi's retirement after the Olympics as the national team coordinator for USA Gymnastics. Aly at 22 years of age, Gabby at 20, both Simone and Madison 19 years old, and Laurie only 16, could all possibly be at the 2020 Olympics in Tokyo, making the USA the most dominant team, which they certainly were in Rio. Likewise, the Karolyi's will still be a dominant force in the sport, so for the future of United States gymnastics...all that glitters is gold.
#GoldenGirls #TeamUSA