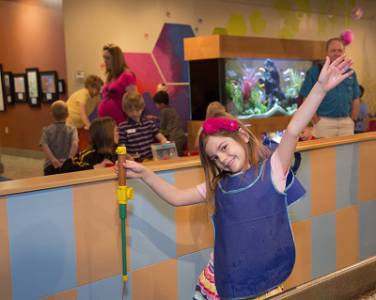 THE WOODLANDS, Texas - Spend Nickelodeon's Worldwide Day of Play at The Woodlands Children's Museum. The annual event is designed to encourage children and parents to turn off the television and go play.
A full schedule of fun and play.
The event will take place from 10 a.m. to 2 p.m., on Saturday, September 17.
"Nickelodeon's Worldwide Day of Play all started by asking children to go completely television-free for three hours, with the network taking down all of its programming and shutting down its websites," Angela Colton, the museum's executive director, explained. "The message is the same as ours – get up, go out and play!"
She explained the Worldwide Day of Play has resulted in children pursuing more active and healthy lifestyles.
"We want to support anything that encourages children to be fit and healthy," Colton said. "We want families to join us and just play together."
The Woodlands Children's Museum is open seven days a week during the summer. Daily admission is $6 per person 1 year and older. The museum is recommended for ages 7 and under.
The Woodlands Children's Museum, located at 4775 W. Panther Creek Drive, Suite 280, has a full calendar of exciting activities and a number of outreach programs. To learn more about the museum, its hours of operation and ways to support the nonprofit, call 281-465-0955 or visit woodlandschildrensmuseum.org.