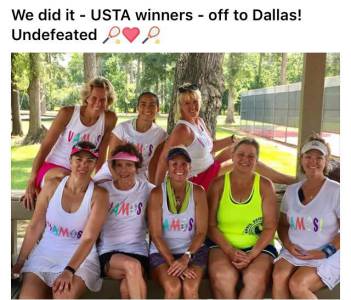 April Sound Women's Tennis has had a successful 2017 summer with teams on the brink of championship at state competitions!
Women's 3.5 Tennis Team Heads to State Competition
The 3.5 team clinched the local division and will be advancing to Sectionals in Dallas on August 4th. The captain, Trudi Buchan, is excited to lead a talented group of players through the best of Team tennis in the North Houston area. Undefeated, the team is looking forward to the challenge of state competition, and handling the Dallas heat.
The 3.0 team, captained by Patrice Charleville, is neck and neck with a Woodlands team for second place. The winner will head to Corpus Christi the second week of August. The deciding match will be played tomorrow, Wednesday, July 19th at April Sound.
The April Sound Tennis Center will be hosting additional opportunities for play including the North Country Women's Tennis League. NCWTL as it is also known, starts on August 24th. April Sound is hosting three teams this year...A-2, A-3, and B-3. Anyone interested in playing is welcome to call the pro shop for more information at 936-588-7230.
Summer tennis camp for the juniors is in full swing. Monday through Thursday, 10:30am. Please call the shop if you'd like to enroll your junior, or would like more information.