/

/

Next generation joins family business; McKenzie's Barbeque and Burgers celebrates 23 years
Next generation joins family business; McKenzie's Barbeque and Burgers celebrates 23 years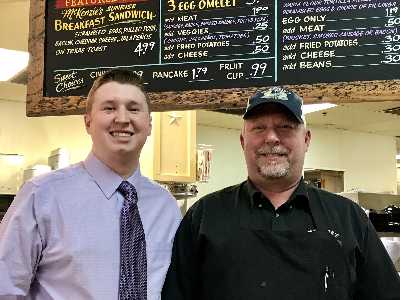 CONROE, Texas -- McKenzie's Barbeque and Burgers announced that Colin McKenzie has joined the restaurant's management team, offering additional finance and business development expertise for the family restaurant that operates locations in Conroe and Montgomery, Texas.
Colin McKenzie, son of owners Darin and Kathy McKenzie, recently graduated early from Louisiana Tech University with a degree in finance. "I'm honored to be able to participate in my family's business," said Colin. "I have been working in the restaurant since I could drive, and I am excited about expanding our services and enticing a whole new generation of barbeque enthusiasts."
According to Darin McKenzie, "Having Colin join the business means the world to my wife and I. We are so proud of what he has accomplished and are looking forward to seeing where he will take our restaurants. We know he will continue our traditions of giving back to our community, appreciating our current customers and growing our customer base into the future."
About McKenzie's Barbeque and Burgers
With the help of barbeque legend Roland Lindsey of Bodacious Barbeque, older brother Kevin and his wife Lisa opened the first McKenzie's BBQ in Huntsville in 1992. Their approach was simple: slow cook the finest quality meats in custom-made smokers constructed by legendary barbeque pit builder A. N. Bewley.
In 1995, younger brother Darin and his wife Kathy opened a second location in Conroe, attracting a loyal following from an appreciative community. The restaurant has won the "Best Barbeque in Montgomery County" title since 2000 and local media have proclaimed McKenzie's BBQ as the standard by which all other barbeque in Montgomery County should be judged. By popular request, big, juicy burgers were added to the menu, though barbeque remained the focus of the restaurant.
In 2009, Darin opened a McKenzie's BBQ in Montgomery and he takes a very personal, active role in supervising every aspect of the operation at both locations. And now Colin, a second generation of McKenzie's, is getting involved in the business and learning the art and science of creating mouthwatering barbeque.
Whether you are looking to satisfy a personal craving or catering a meal for 5,000, McKenzie's BBQ is simply the choice for people who truly love Texas BBQ.
A full service breakfast menu was added at the McKenzie's Barbeque and Burgers Conroe location in 2017. The McKenzie family invites you to eat more barbeque, burgers and breakfast!
McKenzie's Barbeque & Burgers is a member of Conroe/Lake Conroe Chamber of Commerce, The Woodlands Area Chamber of Commerce and the Montgomery TX Area Chamber of Commerce. They support many local non-profits and value their community involvement.
For more information about McKenzie's Barbeque and Burgers, visit www.mckenziesbarbeque.com or call the Conroe location 936-539-4300.