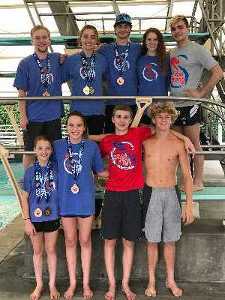 CONROE, Texas -- Eleven members of the Conroe Diving Club and coaches Bill Travis and Nancy Vear recently competed in the 2018 AAU Red, White and Blue national diving championships held May 26-28 in Coral Springs, FL. The competition was held at the Coral Springs Aquatic Complex and attended by over 300 of the top divers in the United States. This was a Junior Olympic event and included 9&U, 10-11, 12-13, 14-15, 16-17 and 18-19 age groups.
The Conroe Diving Club captured 10 total medals including three gold and one bronze. Samantha Vear brought home two golds by sweeping the 16-17 girls one meter and three meter events while Mason Williams earned individual gold in the 16-18 boys one meter and finished fourth in three meter event. Jessica Moore captured the bronze medal in the 12-13 girls three meter while finishing sixth in the one meter. Chloe Sharp (12-13 girls 3 meter), Gabe Hartmann (16-17 boys 1 meter), Travis Saye (16-17 boys 1 meter) and Drake Mcpeek (18-19 boys 3 meter) earned individual medals by placing in the top 12 of their respective events. Other divers representing the Conroe Diving Club at the meet include Braden Moore (14-15 boys), Brady Gottula (16-17 boys), Sophie Medico (16-17 girls) and Daphne Scheck (18-19 girls).
The Conroe Diving Club is a year around program for children ages 6-18 and includes all levels of diving from "learn to dive" to "Junior Olympic". Head coach Bill Travis is a three time national champion, four time NCAA All-American and three time USA Diving national team coach. Coach Travis will be instructing 3-day "learn to dive" mini camps throughout the Summer and the learn to dive program with age-group coach Nancy Vear.
For more information about the camps or the learn to dive program contact head coach Bill Travis at the Conroe Aquatic Center 936-522-3930.